'Pain of the field': the embarrassing automatic translation of the Spanish Ministry of Industry
Comments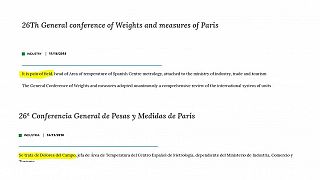 An automatic translation has embarrassed the Spanish Ministry of Industry, Commerce and Tourism.
In a press release published on its website, Dolores del Campo, head of Temperature Area of the Spanish Metrology Centre, saw its name translated in the English version as "it is pain of field."
A Reuters news agency correspondent defined the unfortunate error on Twitter as "the dangers of using automatic translations on web pages."
Euronews has translated the same phrase with two of the most popular automatic translators: Google Translator and Deepl, but curiously neither one interpret the name as "It is pain of field".
The English version of the press release is only limited to the headline and the first two sentences, the rest of the text has not gone through the mysterious automatic translator of the Ministry.
Spaniard Dolores del Campo was elected as a new member of the International Committee of Weights and Measures, which officially changed the weight of the kilo during a conference last week.