Maltese Marvel: Valletta shows off its cultural side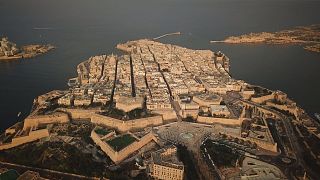 Go Europe takes you to the Maltese port of Valletta, European Capital of Culture 2018, for a tour of its renovated Baroque architecture combined with modern design.
Malta's dramatic history as a base for medieval knights and modern-day navies is weaved into the fabric of the city - in its museums, restaurants, bars and boutique hotels. We speak with the architect who designed a monument to the evolution of the main city gate, the final version designed by Italian architect Renzo Piano along with the new national parliament.
We visit the renovated Is Suq covered market, bombed during World War II and today full of life with shops and food from across the planet. We try some of Malta's culinary specialties like pastizzi and ftira, and make a seafood dish, torta tal-lampuki, with a local chef in one of the boutique hotels converted from an old palazzo. Those renovations were made while respecting Valletta's architectural past, using the same limestone and medieval or colonial designs.
We check out the art scene in the Blitz atelier and various galleries, showing the multicultural input of artists from Malta and around the world. We delve into the performing arts at the Teatru Manoel, a medieval venue built - as the artistic director says - by a grand master to keep his young knights "out of mischief,'' now a stage for concerts, plays and opera in Maltese and in English. Valletta is also a popular site to shoot films: we walk down the same street where Brad Pitt fled the zombies in World War Z.
We plunge into the nightlife on Strait Street, or Strada Stretta, once Valletta's redlight district, now with upscale bars and restaurants, a wide variety of music and other performances. And we follow a parade and performance at City Gate, with kids and bands from across Malta, celebrating Valletta as European Capital of Culture 2018.