Clash of the titans on thrilling last day of The Hague Judo Grand Prix
Comments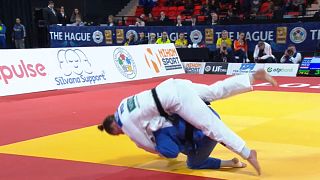 It was a clash of the titans on an exciting third and final day of The Hague Judo Grand Prix 2018, with the home audience thrilled by a string of spectacular contests in the higher weight divisions. 
Our Man of the Day was former World Number 1 Aleksandar Kukolj of Serbia. Kukolj had a stellar day, producing some spectacular judo to reach the -90kg final. A massive uchi mata, and a kosoto gake attack saw off Alexander Roslyakov of Russia. 
Then a perfectly timed foot sweep ended Frazer Chamberlain's run, and an uchi mata got the better of Belgium's Joachim Bottieau. In the final Kukolj would meet current World Champion Nikoloz Sherazadishvili, who had been on fire all day. 
A dazzling display of ippon judo had seen Sherazadishvili slice through the category, living up to the mantle of World Champion. An uki goshi that flattened Russian Said Emi Zhambekov and his trademark uchi mata against Aatu Laamanen of Finland were the highlights of his preliminary round fights.
So it was world number one against world number two in the final that resembled a real clash of the titans. 
And it was decided by a moment of brilliance from the Serbian. Kukolj expertly wheeled the World Champion over his outstretched leg to score and claim top spot in The Hague.
Sherazadishvili was presented his gold medal by Mrs Hanneke Van Der Marel, Director of Sports, City of The Hague.
"We've fought a few times, we always have great fights. Our fights are never boring, so I expected one now. We are open fighters, left on right, and I came out on top this time, and I couldn't be more happy," Aleksandar Kukolj said in an interview.
First World Judo Tour gold for Russia's Shmeleva
Our Woman of the Day was Antonina Shmeleva of Russia. Having shown some dynamic judo in her preliminaries, she produced some powerful ground work to roll and pin France's Sama Hawa Camara in the final of the -78Kg category.
It was the Russian's first ever world judo tour gold medal and a moment she has waited a long time for.
"I am very happy. I have waited a long time for this moment, and I am overjoyed it has finally come," Antonina Shmeleva said in an interview
Gold run continues for Israel's Paltchik
Peter Paltchik of Israel was victorious in the -100 kg category. In the final, he caught Mikita Sviryd of Belarus with a drop seoi nage in golden score to take his second World Judo Tour gold medal in a row.
Cameroon wins first ever IJF World Tour medal
Hortence Vanessa Mballa Atangana took a first ever medal on the IJF World Tour for Cameroon with silver in the +78kg category. 
But it was Maryna Slutskaya of Belarus who edged a tactical final for the heavyweight title after the African contender was penalised three times and was disqualified for going out of the area.
Elsewhere,former World Championships bronze medallist Yakiv Khammo of the Ukraine ruled the men's heavyweight category as he overcame Romania's Vladut Simionescu with a fantastic ouchi gari to take the +100kg gold. 
**Diverse number of nations win medals **
This year's tournament had a diverse number of nations winning medals, with an amazing 27 countries medalling in the Hague. Serbia, Israel and Belarus added their names to the list of winners on the final day of competition in the Netherlands as Russia and Ukraine were the only countries to win more than one title in The Hague. The second edition of The Hague Grand Prix saw the 14 gold medals go to 12 different countries as judo showed the world that it is without question the most competitive sport in the world.
Move of the Day
Our Move of the Day came from an all Dutch -78kg bronze medal contest where Ilona Lucassen threw former world champion Marhinde Verkerk - dropping between the legs for a whipping seoi nage - to take the victory.
Judo heads home for Osaka Grand Slam 2018
The IJF World Judo Tour moves on to Japan, the sport's homeland, for the penultimate event of the season as the Osaka Grand Slam will host the best of the best judoka from 23-25 November. Osaka will feature an all-star field with 454 judoka from 75 counties including Olympic and world champions from the host nation and from abroad as every participant aims to win Japan's blockbuster competition.