Submarine which disappeared with 44 crew is found one year later
Comments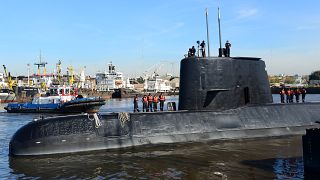 A submarine which went missing last year with 44 people onboard has been located, the Argentine Navy announced Saturday.
The ARA San Juan was found "imploded" about 907 meters below the Atlantic ocean's surface off the Valdes Peninsulain Argentine Patagonia, the defence ministry later told reporters.
It was traced by an American maritime company contracted by Buenos Aires following a failed international search operation involving over a dozen countries and 4,000 personnel.
The discovery comes days after families of missing crew members held commemorative services in Argentina, one year after the 35-year-old vessel disappeared.
The military craft still had a seven-day supply of air left when it released coordinates of its last position 430 km off Argentina's Patagonian coast on November 15, 2017. Crew members reported it had recovered from a mechanical failure after seawater entered its snorkel – which fed air into the sub from above the ocean's surface – and they were ordered back to base at Mar del Plata.
Its subsequent disappearance raised questions about investment in Argentina's military, which has one of the smallest defence budgets in Latin America relative to its economy.