Bulgaria's deputy PM Valeri Simeonov quits after calling disabled rights activists "shrill women"
Comments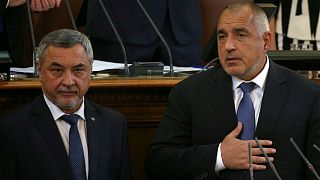 Bulgaria's deputy prime minister has quit after controversial remarks about disabled rights activists sparked protests.
Valeri Simeonov (pictured above, left) said they were "shrill women" who "speculated with their supposedly ill children … to achieve their purely materialistic goals".
Simeonov, the leader of an alliance that is a junior coalition partner in Bulgaria's centre-right government, resigned on Friday.
"I am handing in my resignation following the continued media campaign against me," Simeonov said late on Friday.
"This campaign is damaging the government's rating and authority and is becoming an obstacle to its normal work. This is something I cannot afford.
"It is not just about me, it is not about the party I lead, it is about the ruling government, which I think is extremely successful."
Boyko Borissov, Bulgaria's prime minister, accepted Simeonov's resignation, the government press office said.
Simeonov's party is expected to continue to support the government, reports Reuters.
The opposition socialists and the ethnic Turkish MRF party had also demanded Simeonov's resignation and boycotted sessions in parliament.
Simeonov made in an interview in October as activists held protests calling for a better welfare system for disabled people. 
Bulgaria, the poorest member state in the European Union, faces more protests this weekend over higher fuel prices and tax increases for older, more polluting cars, though political analysts say they are unlikely to unseat Borissov's government.