Homeless man and couple made up GoFundMe story, complaint says
Comments
By Erik Ortiz and Kurt Chirbas with NBC News U.S. News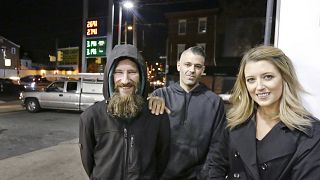 Copyright

Elizabeth Robertson The Philadelphia Inquirer via AP file

-
A New Jersey couple accused of scamming a homeless good Samaritan out of hundreds of thousands of dollars as part of an online fundraiser that went viral a year ago had initially conspired with him to concoct a "fictitious story," prosecutors allege.
A complaint obtained by NBC Philadelphia says couple Mark D'Amico and Kate McClure made up a GoFundMe campaign in honor of Johnny Bobbitt Jr. so that all three could raise money by deceiving donors. They kept up the ruse by preventing donors from acquiring information that would affect their judgment about the campaign and "by failing to correct their story," the complaint added.
The three are expected to face charges that include conspiracy and theft by deception, a source familiar with the case told NBC Philadelphia, adding that D'Amico and McClure surrendered to authorities on Wednesday.
Ernest Badway, an attorney for D'Amico and McClure, told NBC News he had no comment early Thursday.
Chris Fallon, an attorney for Bobbitt, could not immediately be reached for comment.
WANT BREAKING ALERTS FROM NBC NEWS? SIGN UP HERE
The initially feel-good tale began last fall when Bobbitt, a homeless Marine veteran, gave McClure his last $20 after she ran out of gas on a freeway ramp in Philadelphia, she said. Moved by the gesture, McClure and D'Amico started a GoFundMe campaign for Bobbitt, drawing donations from more than 14,000 people and earning him $402,000.
But Bobbitt believed the couple was dipping into some of the money for themselves, and in late August attorneys for him filed a lawsuit to try to force McClure and D'Amico to turn over the remaining cash.
Bobbitt's attorneys allege he has only received $75,000 of the money raised and claim the couple spent donations on items such a BMW and on luxury vacations.
The couple denied the allegations and said they had withheld some of the money because they feared Bobbitt, who has battled a drug addiction, would spend it on drugs.
The Burlington County prosecutor in New Jersey started investigating D'Amico and McClure over the summer.