The sky's the limit at Austrian aviation school
Comments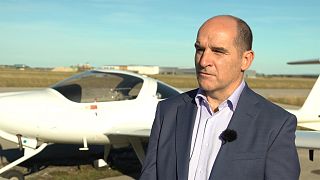 Thomas Herrele quickly understood that if pilots were to remain safe in the sky, they also needed to train on the ground.
Thomas is also head of the Aviation Academy Austria.
"In kindergarten I knew that I wanted to have a job - something to do with airplanes. I'm really proud we managed from really a green field a great idea, now we have five simulators and this basic training base here in Wiener Neuestadt managed within to ten twelve years,'' he says.
The simulators at the academy can cost anywhere between 8 and 40 million euros depending on the device.
"You have to train on an specific simulator which is comparable with the aircraft, and so we have customers from Panama, Australia, Indonesia, all over the world actually: 40 countries and all continents."