To coin a phone: Russian fills tub with change to buy latest iPhone XS
Comments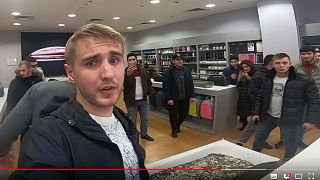 Shoppers were sent scrambling to capture the remarkable scene: a group of men heaving a coin-filled bath into a shop to buy the latest iPhone.
The prank, led by Russian blogger Svyatoslav Kovalenko, saw seven men transport the 350-kilogram tub to a Moscow shopping centre.
It contained the equivalent of at least €1,300 in Russian roubles, enough to purchase the iPhone XS model.
Footage posted online shows the men hauling the bath into a car and then into the shopping centre's lift.
The group edge their way through the commercial area with the tub, prompting stares of amazement from shoppers.
After being stopped by security they eventually got to the shop, which spent up to two hours counting the cash.
Lyudmila Semushina, public relations manager at the store, told Euronews: "I received a phone call from our store saying that some bloggers came and brought a bath filled with coins.
"I thought they were joking but they sent me a picture to prove it. But the bloggers didn't say who they were.
"They came with company and they had a camera. I think they just wanted to film how funny it was to have a bath full of coins," he said.
"We cannot say it was a usual case for us. Because, thank God, people don't come to us with that amount of coins every day.
"We had a similar case when two years ago a boy came with a change jar to buy an iPhone. But at that time an iPhone cost less money and there were less coins. Nevertheless, we accepted them just as well."