Monica Lewinsky says she would apologize to Hillary Clinton again
Comments
By Allan Smith with NBC News Politics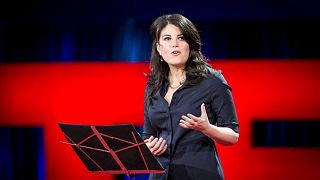 Copyright

James Duncan Davidson TED via Reuters

-
Monica Lewinsky would apologize to Hillary Clinton again if the pair were to meet in person, the activist wrote in an essay for Vanity Fair published Tuesday.
"My first public words after the scandal — uttered in an interview with Barbara Walters on March 3, 1999 —were an apology directly to Chelsea and Mrs. Clinton," Lewinsky wrote, referring to the Clintons' daughter. "And if I were to see Hillary Clinton in person today, I know that I would summon up whatever force I needed to again acknowledge to her — sincerely — how very sorry I am."
Lewinsky said she authored the article to explain her participation in a new documentary series, "The Clinton Affair," that examines the scandal that surrounded her affair with former President Bill Clinton in the late 1990s, when she was a White House intern. The series premieres Sunday on A&E.
"Why did I choose to participate in this docuseries?" Lewinsky wrote. "One main reason: because I could. Throughout history, women have been traduced and silenced. Now, it's our time to tell our own stories in our own words."
She said she provided more than 20 hours of interviews for the three-night series.
In her essay, she wrote that within the past year, she noticed that the former president began getting tougher questions "about what transpired." She noted that in June, when NBC News' Craig Melvin asked Bill Clinton if he thought he owed Lewinsky a personal apology, he said he did not.
"I've never talked to her. But I did say, publicly, on more than one occasion, that I was sorry. That's very different. The apology was public," Bill Clinton told Melvin.
In the 1999 interview with ABC's Barbara Walters Lewinsky referenced, Lewinsky said she "wouldn't dream of asking Chelsea and Mrs. Clinton to forgive me, but I would ask them to know that I am very sorry for what happened and for what they've been through."
Circling back to the former president, Lewinsky wrote that "what feels more important to me than whether I am owed or deserving of a personal apology is my belief that Bill Clinton should want to apologize."
"I'm less disappointed by him, and more disappointed for him," she wrote. "He would be a better man for it ... and we, in turn, a better society."