California wildfire still raging near L.A. and could burn for another week
Comments
By David K. Li with NBC News U.S. News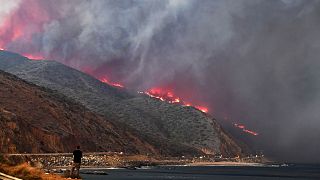 Copyright

Robyn Beck AFP - Getty Images

-
The deadly Woolsey Fire, raging along across canyons and beaches of Southern California could still be going a week from now, officials said Monday.
The wind-whipped blaze has consumed 91,572 acres since it started Thursday in Simi Valley, near the border of Ventura and Los Angeles Counties, according to L.A. County fire chief Daryl Osby.
The fire was 20 percent contained by midday Monday. Though Osby said they optimistically hope to have "knock down" status by the end of this week, with full containment is still a ways off.
"As far as 100-percent containment, we'll be out here for the next week or two trying to mop this fire up," Osby told reporters.
The estimate of 370 destroyed structures in Ventura and Los Angeles Counties is more than double what had been estimated this past weekend.
Osby praised his firefighters and said the damage could have been much worse.
"I want to emphasize … although we've lost over 300 structures, we've estimated that there were 57,000 structure at risk that are still here," Osby said.
The fire has killed at least two people.