Twitter jokester leaves Poland's Vice PM looking red-faced
Comments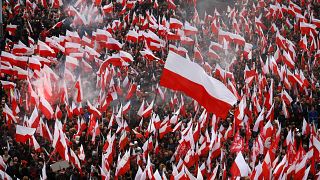 A joker on Twitter has left Poland's Vice Prime Minister cringing after they fooled him into thinking Los Angeles drivers were honouring Poland's 100th anniversary of Independence.
On the eve of Armistice Sunday, Twitter user 'Bram' shared a video of heavy traffic on Interstate 405 in the Californian city, with one side lit white and the other red – much like the Polish flag.
On November 11, Poles celebrate National Independence Day which earmarks the country's return to self-governance in 1918 from the German, Austrian and Russian empires.
Aware of the freeway's resemblance to the Polish colours, Bram remarked: "The people of #LosAngeles make a huge effort in showing the Polish flag for #PL100. They all #likePolska for sure!"
Touched by the 'gesture', former Deputy Prime Minister and Finance Minister Jan Vincent-Rostowski got wind of the viral tweet and responded, "Wow! It's impressive! Thank you! THANK YOU LOS ANGELES!!!"
But amused users quickly pointed out the footage showed typical north-south LA traffic, and the drivers' white and red lights were simply their head and brake lamps.
Their responses were not missed by the Vice PM, who accepted his mistake and appealed for mercy:
Oops indeed!