Kosovo tops 2018 Tashkent Grand Prix medals despite an Azeri gold rush
Comments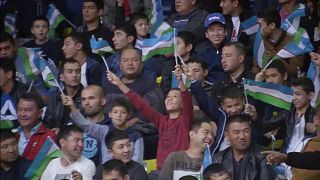 On the third and final day of the 2018 Tashkent Grand Prix in Uzbekistan, our Man of the Day was Russia's Soslan Bostanov, who reigned victorious in the men's +100kg category.
In his preliminary matches Bostanov displayed his dynamic throwing ability with an electric uchi-mata attack for ippon. In the final contest, he would meet home favourite Bekmurod Oltiboev of Uzbekistan.
The Russian started the contest strongly, with a repeat of his uchi-mata, scoring waza-ari. But the Uzbek athlete was not out of the fight yet and he equalised the contest. When it was all level, it was Bostanov that countered his opponent, scoring a final waza-ari to end the match and take the gold home to Russia.
"This is my first gold medal in a Grand Prix at over 100 kilos. Right now I cannot express what I feel as it hasn't sunk in yet, but of course I am happy, extremely happy. This my first gold medal, it is a special feeling for me," said Soslan Bostanov in an interview after the contest.
Woman of the Day
Our Woman of the Day was Loriana Kuka of Kosovo, who took the second -78kg Grand Prix gold of her career in Tashkent.
Kuka displayed an undoubtable level of confidence all day on the tatami. In the final, a Ko-uchi-gake attack against Bernadette Graf of Austria registered ippon and meant that Kosovo took the gold.
"Last year I was still in juniors and fighting in -70kg and then I changed -78kg in my first year seniors. Everything was like new for me and I am really happy that it is going that well," Loriana Kuka said in an interview.
Kosovo tops medals table, despite Azerbaijan gold rush on final day
Kosovo topped the tournament's medal table with three gold medals and one silver. Led by Olympic champion Majlinda Kelmendi and her team mates Distria Krasniqi and Loriana Kuka, who all displayed dynamic ippon-scoring judo in Tashkent.
In the men's -100kg category it was Elmar Gasimov of Azerbaijan who left the crowd wanting more.
Gasimov's dominant attacking judo meant he would ease past his opponents in the preliminary rounds. In his semi-final he dispatched his opponent with a second waza-ari score, meaning he would meet Alexandre Iddir of France in the final, where Gasimov was victorious and it was another gold for Azerbaijan.
In the women's division, Iryna Kindzerska stood with force at the top of the podium for Azerbaijan in the +78kg category.
Kindzerska threw with O-soto-gari in her opening contest, which led her to her tactical win in the final against Carolin Weiss of Germany.
To make the tally three gold medals for Azerbaijan, Mammadali Mediyev won the -90kg gold. Mediyev controlled Ivan Vorobev of Russia with a Ko-soto-gake in a close exchange to win the semi-final. To the delight of the Azeri crowd, their flag would fly above the lightest male weight today in Tashkent after Hungarian top seeded athlete Krisztian Toth was was injured during the preliminary rounds and did not compete in the final, handing victory to Mediyev.
Move of the Day
Our Move of the Day was some reactive judo at its finest and came from Germany's power house Karl-Richard Frey in the -100kg category as he launched Joakim Dvarby of Sweden with a devastating counter for a bronze medal.