'Baby Trump' balloon flies above Paris protest
Comments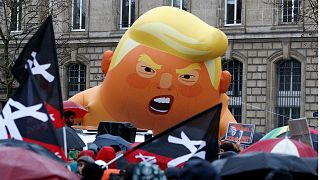 A six-metre-high blimp depicting the US president as a grimacing orange baby flew above hundreds of protesters gathered in Paris on Sunday to voice their opposition to Donald Trump's visit to the French capital.
Dubbed "Baby Trump", the blimp shows the president wearing a nappy and clutching a smartphone.
Its owners — a group of British campaigners — loaned it to French demonstrators for their demonstration at the Place de la Republique.
Sophie Haas, a 28-year-old protester, said the protest was as much aimed at French President Emmanuel Macron, who invited Trump to join a ceremony commemorating 100 years since the end of World War I, as the US president.
Trump, Russian President Vladimir Putin, German Chancellor Angela Merkel and dozens of monarchs, princes, presidents and prime ministers joined Macron to mark the centenary of Armistice Day,