Armistice centenary: Testimonies on why it's important to remember World War I
Comments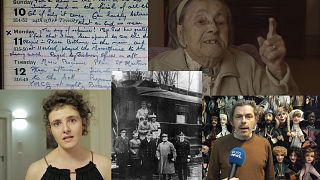 As the world marked the Armistice Day centenary on Sunday, Euronews spoke to people across Europe about what the end of World War I means to them.
From first-hand memories of the final moments of the Great War, to Europeans searching for ways to communicate the story of the conflict to the next generation — take a look at their powerful testimonies below.
Diaries written on the Western Front
For British writer Tim Locke, his grandfather was his "most direct connection" with World War I.
While Tim's grandfather never spoke about his experiences, diaries found after his death gave personal insights into the Great War.
"In 1918, he records every day, right up to the end of the war that year," he told Euronews.
On Armistice Day, his grandfather wrote: "The day of reprieve! My God, how grateful I am that I have been spared to see this day."
After the war, Tim's grandfather went back to work in his shop and was reunited with his wife and son.
"They never really spoke about the war. I think for him it was something best forgotten. He suffered in silence...like so many others," Tim explained.
Armistice Day through a child's eyes
Italian filmmaker Alessandro Bettero shared the testimony of Angelica Genovese, who lived through the Armistice.
"We children were in bed when we heard a man screaming from the street... He shouted: 'Come outside, the war is over, it's over!'
"So when everyone heard the news they rushed out to the streets," she recalled.
Telling the story of Armistice through puppets
The famous Guignol Theatre in Lyon, France, created a play explaining the Armistice to children.
Euronews spoke to the men and women behind the production to find out why they created the play.
"World War I is truly the beginning of the 20th century for many historians and for the entire French population I think. So we must constantly remember the causes of this war," explained director Philippe Secle.
Comedian Flore Goubeau said it is "very important" that children are told about World War I and Armistice Day outside of school.
"It's a sad and difficult subject, and just the word 'Armistice' is complicated for three-year-olds. It's a difficult subject, that's why we tried through visual displays, music, dances, and joyous characters to bring a message of joy," she said.
The star of the puppet show, Guignol, told Euronews that the theatre company wanted to find a way to tell the story of Armistice to both adults and children.
"It's important because there are probably many children that haven't heard about it before. So it's good that they can discover it here for the first time... We present it in a different way, a little more amusing than the reality of what happened," he said.
Armistice and women's emancipation
Guignol director Philippe Secle explained the connection between World War I and women's emancipation.
"Women had replaced the men who were all on the front — they started working in factories and began taking the place of men in civilian life," he said.
"When the men returned, many people took their place back; men as workers and women as housewives. But among the upper classes, especially in cities, women kept the place they had during the war."
A father's story
In Turkey, Gülseren Ortahamamcilar told Euronews of her father's experience of being imprisoned during the war.
"My father was imprisoned for eight years. That's what I heard from my mother. Being a prisoner should be tough but she said the Russians were nice to him," she said.
What does Armistice mean to young people?
German teenager Lia Brunke said her school studies focused predominantly on World War II.
"I just knew when it [WWI] started and ended, and that it had something to do with an assassination, but nothing else," she said.
"I think its generally important that we remember history so we can learn from it."
French student Julia Kellerman, who joined Lia in participating in a Polish–French–German theatre project about the memories of WW1 in their countries, also spoke about what Armistice Day means to her.
"I think the 100-year anniversary of World War I seems very old for the young generation. We know more about World War II, so celebrating this centenary is a way of thinking about how we can work together towards peace," she said.
Countries that don't mark Armistice Day
Hungarian historian Ignác Romsics explained the "very simple reason" why Hungary does not mark Armistice Day.
"France, Great Britain and the United States of America won the First World War and as winners they rightfully celebrate it. But Hungary, which was part of the Austro-Hungarian Monarchy, lost the war," he said.
"A lot of counties... have their reasons to celebrate the end of the First World War and the peace treaties that followed it but Hungary does not belong to the countries that celebrate this."
Russian historian Yuri Bakhurine told Euronews that in Russia, World War I was "actually supplanted or overshadowed by subsequent events".