Homeless World Cup to honour memory of late co-founder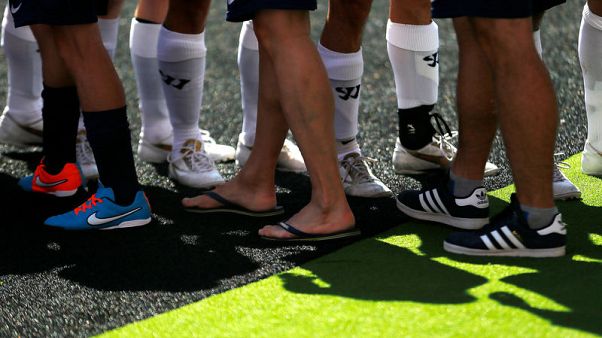 -
By Christian Radnedge
LONDON (Reuters) – As more than 500 soccer players gather in Mexico City next week for the 16th Homeless World Cup, the tournament will take place against the backdrop of the death last month of its co-founder Harald Schmied at the age of 50.
The Austrian, diagnosed two years ago with Amyotrophic lateral sclerosis (ALS), created the tournament with Mel Young almost 20 years ago to improve the lives of impoverished people through the beautiful game.
The first edition, held in Schmied's home country in Graz in 2003, was won by the hosts and it has been an annual event since.
More than 40 countries now take part, with 400 games of four-a-side taking place in a week-long football festival which has garnered support from European soccer body UEFA and global professional players' union FIFpro.
Two competitions take place, a men's/mixed event and a women's programme, with 48 teams set to compete in Mexico in the former from Nov. 13-18.
However, even with organisers expecting 200,000 spectators and millions of online viewers, the sadness at Schmied's death will not be far from anyone's minds.
"He was a lovely person and a great friend," Young told Reuters in an email.
"And of course he loved football. He could see the power it had and he was often quoted when he talked about the highlight of the annual event being the look on the players' faces at the opening parade.
"That look of genuine happiness, of being included and what life might offer. There is always the same great atmosphere, same friendship and warm-heartedness," he said.
"If there were more people like Harald around in the world then it would be a much better place."
One player eagerly anticipating kickoff is Marco Chairez, a 23-year-old from Port Townsend, Washington who will play for the United States.
"I am so honoured to be a part of this amazing programme that has helped me turn my life around," Chairez told Reuters.
"Because of organisations like these people are able to do something incredibly productive with their lives. As a homeless youth I know that can be the key to opening many doors.
"The people that make these tournaments possible need to know that they have created a positive impact in my life and in many others that have suffered from homelessness."
HUGEUNDERTAKING
The goodwill involved helps facilitate a huge logistical undertaking. Seventy countries are involved with the Homeless World Cup Foundation and teams are selected by national soccer initiatives, which pay for flights to the host city.
Tournament organisers cover the players' accommodation, food and travel costs during the event.
"I hope to go and just have fun, play soccer, meet people, make friends and learn from other players," Chairez added.
Chairez and his team mates may find it hard going should they play Brazil, the most successful team in the tournament's history with three titles.
Mexico can equal them if they win on home soil – something they failed to do when they last hosted the event in 2012, losing 8-5 to Chile in the final.
Of course, no sporting event can eradicate the many social inequalities around the world, with global housing body Habitat for Humanity estimating that 1.6 billion people lack adequate accommodation.
The United Nations is still off track in its bid to end extreme poverty which covers eight percent of the world's population. The target is to get an average 1.6 people escaping poverty per second. The current rate is 1.1.
Still, football offers a welcome respite from the horrors of living on the streets and Young insisted that Schmied's legacy be celebrated.
"We will miss him for sure but his final message was typical of Harald when he urged people to turn their sadness into positive energy," he said.
(Reporting by Christian Radnedge,; Editing by Ed Osmond)
euronews provides breaking news articles from reuters as a service to its readers, but does not edit the articles it publishes. Articles appear on euronews.com for a limited time.