At least 11 deaths suspected in California wildfires, as winds set to pick back up
Comments
By Phil Helsel with NBC News U.S. News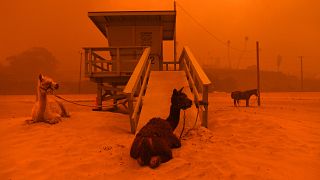 Copyright

Wally Skalij LA Times via Getty Images

-
LOS ANGELES — A huge California wildfire burning near Los Angeles doubled in size by Saturday, and officials said two people were found dead in the fire zone, bringing the deaths suspected in several large blazes in the state to at least 11.
The two people who were found dead in the area of the so-called Woolsey Fire are being treated as fire-related deaths at this time but an investigation is ongoing, Los Angeles County Sheriff's Department Chief John Benedict said. That fire has prompted evacuation orders affecting some 200,000 people and destroyed what is estimated to be many homes.
"Last night was a tough night," Ventura County Fire Chief Mark Lorenzen said at a news conference. "As the fire jumped the 101 [freeway] and ran into Malibu it was quite a fight."
"But what I can say is again your first responders, your law enforcement officers, your firefighters made heroic efforts in saving lives and protecting property," he said.
The fires have been fueled by high winds, officials said. There was a lull in the winds in the Southern California areas on Saturday, but hot, dry Santa Ana winds are forecast to resume on Sunday, Ventura County sheriff's Sgt. Eric Buschow said. "Red flag warnings" were in place across much of the state Saturday.
More than 250,000 people in California were under evacuation orders from three blazes — the Woolsey Fire burning northwest of Los Angeles, the so-called Camp Fire in Butte County, and the Hill Fire, also in Ventura County, the California Department of Forestry and Fire Protection said.
The town of Paradise, population 26,000, north of Sacramento was devastated, with the town's mayor estimating that 80 to 90 percent of homes have been destroyed.
At least nine people have been killed in that fire, which broke out Thursday morning, including five people whose cars were overcome by the flames, officials said. The fire, which has burned around 100,000 acres, was 20 percent contained Saturday.
Marilyn Pelletier got a knock on her door in Paradise and was told she had five minutes to leave. She grabbed her medicine bag and her small dog, and when she left "the whole sky was pink."
"You could see the fire coming," she said. "It was devastating. It's horrible. The worst thing I've ever experienced in my life. I was just — I'm grateful I got out with my life."
Pelletier moved to Paradise two years ago after her husband passed away, and bought a house in the town which was destroyed in the fire, she said.
"It's a beautiful home — it was. It was real pretty," Pelletier said. "I'm devastated. I'm heartbroken, I'm alone, I'm scared."
News
The Woolsey Fire burning in parts of Los Angeles and Ventura counties as well as Malibu has grown to around 70,000 acres by Saturday, up from 35,000 acres on Friday. At least 50 or more homes in Ventura County have been destroyed or damaged in that fire, Buschow said, but estimates are preliminary.
Michelle Mussetter evacuated from her house in Thousand Oaks Friday night and had heard that her home was saved. She returned Saturday to find out it was destroyed.
"I just came around the corner and I'm like 'Is that house burned?' You could see through it," she said. "My babies grew up in this house. I don't know what to say."
President Donald Trump, on a trip to France,tweeted Saturday morning about what he called poor "forest management" and suggested that was to blame for the deadly and destructive wildfires in California. Fire officials have said that the fires have been fueled by high winds.
The Pasadena Firefighters Association strongly objected to the president's remarks,tweeting: "Mr. President, with all due respect, you are wrong. The fires in So. Cal are urban interface fires and have NOTHING to do with forest management."
"Come to SoCal and learn the facts & help the victims," the tweet, attributed to Scott Austin, the president of the International Association of Fire Fighters 809, read. Trump in August made similar claims about California's water and environmental management in relation to fires, claims which were rejected by experts.
Photos
The Hill Fire, burning in Ventura County, was at more than 4,000 acres on Saturday, according to the state department of forestry and fire protection, also known as Cal Fire. Some 400 structures were threatened, and the fire was 25 percent contained.
Fire officials and climate scientists have said that climate change is contributing to worsening wildfire conditions in California, raising fears that the state's fire season may now be year-round.
"It's really a cumulative effect in that it's changing the landscape. You're getting longer periods of the year when you get these fires. We're literally burning the candle at both ends," Daniel Swain, a climate scientist at UCLA and the National Center for Atmospheric Research, told NBC News on Friday.
California's typical fire season isn't in the summer, but rather in September and early October, which follow the dry season and come before the rainier one — a product of the area's Mediterranean climate.
News
California in July saw its hottest month ever recorded with a string of record-breaking heat waves, and Swain said vegetation in the state has been left "tinder, tinder dry."
Cal Fire said that a preliminary estimate is that the Camp Fire that devastated the town of Paradise destroyed more than 6,400 single-family homes and more than 200 commercial buildings, which would make it the most destructive wildfire in state history.
The Tubbs Fire that struck in Napa Napa and Sonoma counties in October of 2017 had topped the list, with 5,636 structures destroyed, according to Cal Fire. Twenty-two people lost their lives in that fire.