Liz Fekete: the far-right "very adept at using the free speech issue"
Comments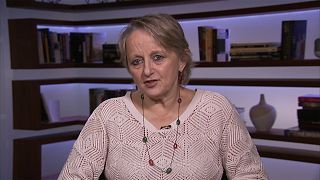 Far-right parties are on the rise all across Europe. In Germany the AfD is now present in all of the country's 16 regional parliaments.
We spoke with Liz Fekete, Director of the Institute of Race Relations and author of the book "Europe's Fault Lines: Racism and the Rise of the Right"
Speaking exclusively to Euronews, she explained the shift which is taking place in European societies and the methods which are being used by extreme right political parties.
"They are very, very adept at using the free speech issue, and what they are doing is actually pushing at the limits of free speech to actually push forward a more openly xenophobic and racist agenda. And actually the extreme right electoral parties are very good at this. Look at Afd, there are certain subjects in Germany that have become taboo, being openly racist, denying the Holocaust, and the Afd are pushing at this all the time and they are using sort of nationalism and the idea that the nation, the people of the nation, the German Volk are martyrs, are victims to a kind of political correctness on free speech.
"They are doing this quite consciously. So we return to a situation where things that have been outlawed in terms of inciting racism are allowed and then become the norm. And that is what we've got to wake up to, that is what the media have to wake up to. They have to ask themselves as well. If they adopt certain frameworks, if they are naïve in the presentation of the far-right, are they in a sense colluding with its growth."
While Germany recognises its dark past and Berlin is marked by memorials for the victims of Third Reich, as time passes, will the message "Never again" still be heard loud and clear? Fekete believes much will depend on the strength and conviction of politicians in the future.
"Angela Merkel made a statement recently which I felt was very strong actually, when she said that when the generation dies off, that experienced the Holocaust, we will see how strong the politicians are in terms of their opposition to fascism and authoritarianism. If the politicians don't really, really understand what gives rise to fascism if they are not versed in the history, if they are not creating structures and streams in education that educate young people about the factors that cause fascism and authoritarianism then obviously the slogan of never again will lose its meaning."