Watch: Forensic scientists search for identity of WWI skeleton
Comments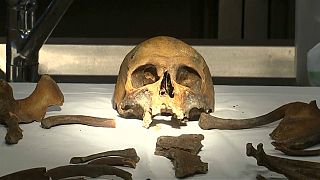 A 100 years after World War I and the remains of soldiers are still being found in France.
In March this year, workmen resurfacing a road discovered a near-complete skeleton where he had fallen during the Battle of Verdun.
Many of the bones were blackened with the laces of his leather boots tied tight.
The soldier's ID tag was unfortunately missing.
Forensic doctors at a hospital mortuary in eastern France have been trying, for months, to discover who this person is and without a known relative to compare against, a DNA test would be useless.
Forensic pathologist Dr Bruno Fremont examined the bones and found a gaping hole in the skull, created by shrapnel a century ago, which killed the soldier.
"For want of being able to identify him formally, one thing we are certain of, thanks to forensic exhumation and examination, is that the shoes that are here are ones he had on his feet.
"These are really the feet of this soldier and these shoes are French army boots.
It is not 100% proof (that the skeleton is a French soldier), a German could have stolen a French soldier's shoes but it is a clue," he said.
Around 80,000 bodies of soldiers have never been recovered from Verdun.
Sometimes, only fragments of bones are found, where bodies have been ripped apart by shells, Fremont added.
The Battle of Verdun was fought between French and German troops for much of 1916 and was the longest and among the deadliest of World War I.
Altogether, almost 300,000 soldiers were killed and even now the ground continues to give up the fallen.
French President Emmanuel Macron lit a flame at the Douaumont Ossuary, a memorial containing the remains of soldiers who died at Verdun and where Fremont's skeleton will be interred if it cannot be identified.