Dennis Hof, famed brothel owner, wins Nevada State Assembly vote - despite being dead
Comments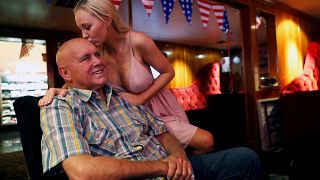 Copyright

REUTERS/Steve Marcus/File Photo
A republican candidate for Nevada State Assembly District 36, has scored an unusual election victory.
Dennis Hof died on October 16 at his 'Love Ranch' brothel in Crystal after a weekend of parties celebrating his 72nd birthday.
Hof's name was still on the ballot for his district and he trumped his rival, despite the inconvenience of having recently been buried.
Nevada's state website has Hof winning by a landslide with over 63 percent of the vote.
Democrat opponent Lesia Romanov has written "Our thoughts and prayers go out to the friends and family of Dennis Hof at this difficult time" on her campaign website.
Dennis Hof's fame made him an attention-grabbing figure in an otherwise quiet industry. He starred in the HBO reality series "Cathouse," marketed himself as a Donald Trump-style Republican in his race for a heavily GOP Assembly district that includes wide stretches of desert where nuclear bombs were once tested.
While waging a no-holds-barred campaign, Hof's incendiary style drew fans and well-known supporters such as Trump adviser Roger Stone and Arpaio. But it also brought scrutiny to Hof's businesses and alienated him from the state's GOP establishment.
Nevada is the only state to allow legal prostitution, which occurs at about 20 licensed brothels in mostly rural areas.
Most brothel owners keep a low profile, offering few interviews and buying only subtle advertising. But Hof had a penchant for splashy billboards and stunts that included helping several women "auction" their virginity.
Hof made an unsuccessful run for the Statehouse in 2016 as a Libertarian. Then this past summer, he ousted a three-term incumbent Republican in the primary after putting up billboards advertising his rival's arrest for disorderly conduct three decades prior and sending campaign emails with a candid picture of the man slumped and asleep in a chair.
Twitter user and reporter for the Nevada Independent, Riley Snyder, tweeted the public notice posted at the polling station alerting voters to the death of the candidate.