Boeing warns pilots about 'angle of attack' sensors after 737 MAX crash
Comments
By Reuters with NBC News World News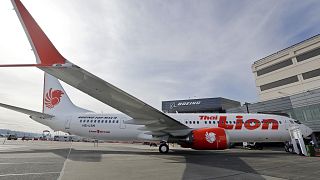 Copyright

Elaine Thompson

-
Boeing has issued a safety message to pilots on how to handle erroneous data from a key sensor on its 737 MAX aircraft in the wake of last week's deadly Lion Air crash in Indonesia.
The Chicago-based manufacturer said investigators probing the crash of Flight JT610, in which all 189 on board were killed, had found that one of the "angle of attack" sensors on the brand new plane had provided incorrect readings.
Experts say the angle of attack is a crucial parameter that helps the aircraft's systems understand whether its nose is too high relative to the current of air — a phenomenon that can throw the plane into an aerodynamic stall.
World news
Some modern aircraft have systems designed to correct the posture of the wings automatically to keep flying safely.
There are also procedures for pilots to follow in the event of missing data from damaged sensors on the fuselage skin, but it remains unclear how much time the crew of Flight JT610 had to respond because they were only a few thousand feet in the air.
Boeing said its bulletin underscored "existing flight crew procedures" designed to address circumstances where the information coming into the cockpit from the sensors was wrong.
The Boeing 737 MAX has three such sensors but erroneous readings could cause it to point the nose down sharply in order to keep air under the wings and avoid a stall, according to a person briefed on the matter.
Speaking on condition of anonymity, a source told Reuters that the Boeing bulletin related only to the 737 MAX, of which there are just over 200 in service.
Service bulletins can be followed by airworthiness directives to airlines by the Federal Aviation Administration, giving the recommendations extra weight.
Boeing has delivered 219 737 MAX jets to customers globally, with 4,564 orders for jets yet to be delivered.
It is a more fuel-efficient version of the manufacturer's best-selling single-aisle 737 series.
The Lion Air crash was the first involving the new version, which airlines introduced into service last year.
Indonesian authorities have downloaded information from the flight data recorder that showed a cockpit indicator on the Lion Air jet was damaged for its last four flights.
A search for the cockpit voice recorder, the second so-called "black box," remains underway.