New boats promise to break records in Route du Rhum
Comments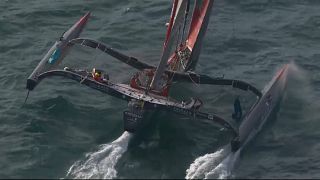 The 40th Route du Rhum boat race got underway on Sunday (November 4) in Saint-Malo when 123 boats set off from the French port headed for Guadeloupe.
This year, the whole world will have be watching just six boats - the so-called 'Ultimes' - maxi-trimarans measuring between 24 and 32 meters that can fly over the waves at 85 kph.
They will pose a challenge for record-holder Loïc Peyron who has chosen this year to honor the pioneers of offshore racing by making the journey in a 12-meter sailboat.
"There is no Formula 1, no rocket, no train that goes three times faster today than it did 40 years ago. This little boat, at least its big brother, won the Route du Rhum in 23 days 40 years ago and I won it in seven days four years ago. It's crazy".
Sébastien Josse, is skipper of the Gitana 17 - one of the Ultimes taking part in this year's race.
"If you do it in eight days, in six days, in five days, well, it will be unbelievable because it will break the record. But it's really unbelievable because the boats allow us to do it - not because we're young and go faster than Loïck Peyron ou Michel Desjoyeaux at the time. If they'd had boats like this in their hands, the records would have been broken too."
Fewer than seven days at sea - that's the record to beat.
The conditions should be good until Tuesday (November 6) when rough weather is predicted. It will hit the smaller Class 40 boats particularly hard - and they make up more than half of the fleet.