High turnout is forecast for the US midterm elections
Comments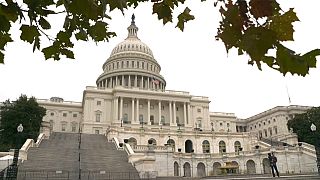 A high turnout is being forecast in America's midterm congressional election, with a polarised debate creating exceptional levels of interest.
Early voting is up 50 per cent on four years ago ahead of Tuesday's poll. The US President Donald Trump has been hitting the campaign trail hard on behalf of the Republicans. His focus has been the strong performance of the US economy.
"This is one of the most important elections in our entire lives," he told supporters in Montana.
"This election will decide whether we build on the extraordinary prosperity that we have achieved or whether we let the radical democrats take control of Congress and take a giant wrecking ball to our economy and to the future of our nation."
In the absence of an obvious successor, former President Barack Obama has been the Democrat's star performer with his calls for a more inclusive kind of politics.
"On Tuesday you can vote for a politics that`s decent, for a politics that`s honest, for a politics that is lawful, for a politics that tries to do right by people," Obama told a rally in Georgia.
Polls forecast the democrats could be in line to win the 23 extra seats they need to win back control of the House of Representatives, while the Republicans are favourites to maintain control of the upper Senate.