Thousands prepare for New York City Marathon
Comments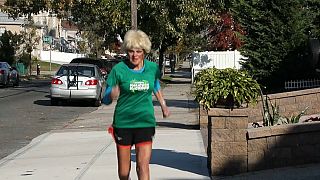 A strong group of American women, including defending champion Shalane Flannigan, look ahead to Sunday's New York City Marathon.
The male runners are also looking forward to the challenge, including Bernard Lagat.
Meanwhile, in the UK, a doctor told Londoner Julie Creffield six years ago, that she was too fat to run a marathon.
But the 40-year-old mother will be taking part in her fourth marathon -- in New York.
"I was training for my second marathon and a doctor said you're too fat to run. I'd hurt my back doing something completely not exercise related and he said you know 'you're just too fat you mustn't run'. And then two weeks later I run the Brighton marathon just to show him that I could."
Meanwhile, a French woman show's running isn't just for the young. At 85 years old, Ginette Bedard runs daily and says it boosts her energy levels. This is her 16th New York City marathon.
Ginette Bedar says, "So, every day, I run three hours here. Three hours, after half an hour of yoga. And I come home happy, satisfied, happy."
Ginette will be taking part with 50,000 others on Sunday.