President Trump sends thousands of troops to the Mexican border
Comments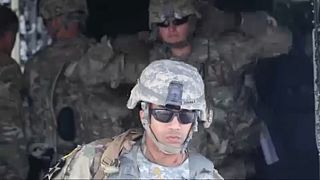 US President Donald Trump has backtracked after suggesting that the thousands of troops he is sending to the border with Mexico should open fire at any migrants who throw rocks at them.
Human rights groups claimed he was deliberately creating fear amongst voters before mid term elections next week.
His Republican party is in an uphill fight to maintain control of the House of Representatives on Tuesday, although it is expected to pick up seats in the Senate.
Trump has said he'll send up to 15,000 troops to the border to confront a migrant caravan of Central Americans which is slowly heading through southern Mexico towards the US.
He's called it an "invasion" and two military bases in Texas are being considered as likely detention centres should the migrants arrive.
Mexico says there are around 2,800 to 3,000 men, woman and children in the caravan. It left Honduras in mid-October, although many are expected to drop off before reaching the U.S. border.
Trump also said on Thursday his administration was finalising a plan to block immigrants who do not come into the United States at a legal port of entry from applying for asylum, although federal law allows any immigrant in the United States to do so.