Lesser charges for Catalan separatists
Comments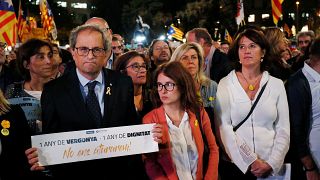 Spain's State Attorney dropped a call for rebellion charges to be brought against jailed Catalan independence leaders on Friday.
It says it would seek lesser charges of sedition and misappropriation of funds.
Earlier, the Spanish prosecutor had said it would seek rebellion charges for all nine jailed leaders, with a maximum sentence of 25 years for the leader of pro-Catalan-independence party ERC, Oriol Junqueras.
The State Attorney now says it would seek up to 12 years for Junqueras and lesser sentences for the others accused.
Spain denied that the State Attorney's decision was a conciliatory gesture to separatists.
Spanish Justice Minister Dolores Delgado says, "This is not about gestures, it comes from the professionalism of the State Attorney's office, based on technical legal parameters. Whether it works as a gesture or not, I have no idea."
However, the head of the Catalan Government Quim Torra says the reduced charge of sedition over rebellion could not be considered a conciliatory gesture and repeated calls to drop all charges.
President of the region of Catalonia, Quim Torra says, "President Sánchez has decided not to act, which is the same as being an accomplice to the repression. It is an absolute disdain for imprisoned democrats".
It's after the region declared independence on the basis of a referendum (Oct 2017) which Spanish courts ruled was unconstitutional.