Catalan independence & European values: Uncut with Carles Puigdemont
Comments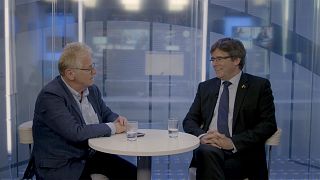 A seasoned debater on European issues, former Green MEP Daniel Cohn-Bendit is hosting a new series of programmes for Euronews: Uncut with Daniel Cohn-Bendit. The idea: conversations without filters, without digressions and without cuts.
For the fourth edition of Uncut, Cohn-Bendit is in Brussels talking to Carles Puigdemont, the former president of Catalonia. He fled to Belgium after the failure of Catalonia's 2017 referendum on independence. Spain ruled that the vote was illegal and he faces arrest on charges of sedition if he returns.
But from his temporary home in the European capital, he still dreams of an independent Catalonia, within a strengthened Europe.
The need for a referendum
Puigdemont concedes that independence isn't the only option for the region, but over the last 40 years, he says, Catalonia has tried everything to gain more autonomy but hasn't succeeded.
The question of independence, he says, must be put to the Catalan people.
"Catalans must be able to say 'yes' or 'no' and agree on how to manage the result," he tells Cohn-Bendit.
And the only way to know whether a majority of the Catalan people wants independence, Puigdemont concludes, is to have a referendum.
Independence and European values
Catalan independence would also help "overcome the unhappiness rippling through Europe", Puigdemont argues, by reinforcing democracy and self-determination:
"Renouncing war and violence and giving a voice to its citizens is a way, in our opinion, of reinforcing European values".
And what if the Spanish government refuses to hold a referendum, how long will this story drag on?
According to Puigdemont, a majority of Catalans still support independence.
"A year after the referendum, the people are there. It is still true that there are still more than 2 million people who support Catalonia's independence".
"In the end, if we are successful in summoning a referendum, we will have to agree on how to manage the results", he added.
Puigdemont stressed that in order to move the situation forward, the Spanish government must stop treating Catalan pro-independence politicians like "criminals".
If a solution is to be found, Puigdemont says, it will have to come from Madrid:
"The conditions for having a real negotiation and a real dialogue must be for both parties to be on an equal footing".
Watch the Uncut conversation between Daniel Cohn-Bendit and Carles Puigdemont in full on Euronews or here on Euronews.com.