French bishops meet victims of abuse for first time
Comments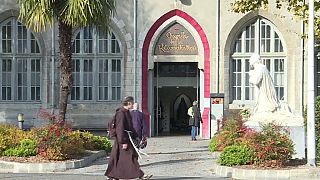 France's Catholic bishops meeting in the holy city of Lourdes this weeken have for the first time met some of the victims of sexual abuse by priests.
Eight victims attended the Conference of Bishops; one of them who was abused at a summer camp in 1993 said they had not yet reconciled themselves to what happened.
"Reconciliation is at the end of the road, but for the moment I am not ready for it, because we are also representatives of all the victims and not all of them are ready to hear this apology, so we are not here to hear an apology, personally that would make me uncomfortable," Olivier Savignac said.
In countries across the world, from Chile to the United States and Australia, the Catholic church has been tainted as some of its priests have been exposed as paedophiles and abusers.
"This meeting is a beginning, not an end. We shouldn't think that once we do this everything will be settled, on the contrary. I hope it will be the start of many things," said Bishop Luc Crepy, head of the permanent commission to fight paedophilia in the Church.
The church has sometimes made the severity of the crimes even worse by covering up for some of the priests to protect its reputation.
And it was only in 2011 that Pope Benedict instructed his bishops to report any suspected cases to the police instead of to the Vatican.