There's something unusual about these lily pads | Innovation Radar
Comments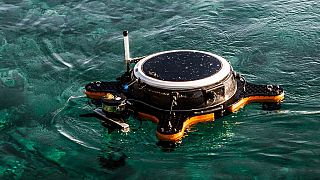 Next time you're by a lake or a harbour, pay attention to the marine flora: you might encounter an autonomous marine vehicle passing for a lilypad.
The laboratory for underwater systems and technologies at the University of Zagreb has developed an unmanned surface vessel able to access shallow waters and narrow, confined spaces.
The laboratory's artificial lilypad, called aPad, can explore marine environments while keeping in direct contact with a team above sea level, or other manned robots underwater.
The aPad lilypads can provide precise maps of a marine environment like a harbour or a marina, spotting not only rocks but archaeological sites under the surface.
"The lilypads are unique in the way they move: they are autonomous and can go in any direction", says Nikola Mišković, a professor of engineering at the University of Zagreb and a researcher on the aPad project.
The pads, he says, are great for "anything that needs inspecting and is difficult to reach."
Mišković's fleet of marine robots isn't only composed of robotic lilypads - the research team also deploys on the seabed vehicles posing as mussels and as fish swimming around.
Together, the robots monitor deep waters - for example, by detecting the presence of oxygen or another substance.
The lilypads act as a dock for the marine robots that need recharging, as well as a point of communication between the underwater fleet (via acoustic waves) and people on the ground (via wireless connection).
Made of carbon fibre, the portable lilypads measure 1-metre x 1--metre and weigh around 20-kilogrammes.
Out of the 12 pads, Mišković's lab has produced so far, five are being tested in lakes and seas in Greece, Israel, the Adriatic Sea, and the Venice lagoon.
The project has received around €4 million in funds from the EU and national funding in Croatia. Its price is not set yet, but it is developed to be a cheaper alternative to current underwater robot's options.
Mišković hopes that it will help marine biologists and archaeologists, as well as anyone working in maintenance and inspection of maritime environments.
The aPad artificial lilypad has been nominated for the European Commission's Innovation Radar Prize 2018 in the 'Excellent Science' category, which recognises excellent scientific work, supported with EU-funding, that is emerging from laboratories around Europe and shows market promise.
Other nominees in this category are Fresnel Institute, Imagine Optic, Technical University of Denmark, MBN Research Center, Re-Compose, AvantiCell Science, Institut Clinique de la Souris, International Center of Unconventional Computing at the University of the West of England and IT4Innovations.
You can vote online for the project of your choice from October 29.