The girl who became the face of Yemen's humanitarian crisis
Comments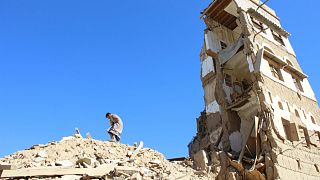 One deeply distressing photograph of a starving little girl has become the human face of Yemen's vast humanitarian crisis.
Just days after its publication, she was dead.
The image was taken as part of a report by New York Times journalist Declan Walsh and photographer Tyler Hicks, who were investigating the impact of more than three years of war on Yemen's people.
The conflict between a Saudi-led coalition, armed by the West, and Houthi Rebels continues despite growing calls for a ceasefire.
Doctors at a hospital in Aslam, 144 kilometres northwest of Yemen's capital Sanaa, directed the team from the New York Times to the bedside of seven-year-old Amal Hussain.
"When we walked into that hospital it was immediately obvious there were a lot of very sick people there" Walsh told Euronews.
"She was a young girl who was lying deathly still. Her mother was sitting over her. She told us that they were refugees from another part of the country. Their home had been bombed in Saada, along the border with Saudi Arabia."
The family could no longer afford food. Amal had grown very sick, being admitted to hospital multiple times for severe malnutrition.
"She was seriously ill. She looked in a terrible state, as you could see from the photographs, with very thin arms and legs and her ribs showing," Walsh recalled.
Amal was also suffering with severe diareha and vomiting.
The image of her lying motionless on the hospital bed shocked the world.
But just days after it was published, Walsh received news from Amal's mother.
Amal had been discharged from the hospital, and her family advised to take her to a separate facility run by Medicens Sans Frontiers. There was simply not space for Amal to stay where she was.
But the family did not have the money for the journey.
"Like many Yeminis they have been absolutely crunched, not only by soaring food prices but also by fuel prices that in many cases means poor people can't afford to take even dying children to hospital" Walsh explained.
So Amal's mother took her back to the family's makeshift hut in a refugee camp six kilometres away.
"About three days after that she told us, while weeping... that Amal had passed away."
Amal's story has become a symbol of what Walsh described as Yemen's "manmade catastrophe".
Walsh says it was a deliberate decision by the New York Times to publish the distressing image.
"Editors felt that these were exceptional circumstances," he said. They wanted to highlight that this was a manmade "catastrophe", bringing one of the world's poorest counties to the brink of famine.
The scale of the suffering is hard to comprehend.
Some 1.8 million children are severely malnourished, and eight million people are dependent on emergency food supplies, with fears this could rise to half of the population.
As global calls for a ceasefire grow, the story of one little girl forced the world to take note of the immense human cost of Yemen's bitter conflict.