On the ground at the Bosnian-Croatian border where migrant tensions are rising
Comments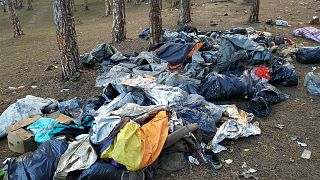 Tensions are rising on the Bosnian-Croatian border, where scores of migrants are demanding entry to the European Union, amid reports this week of fresh police clashes, plummeting temperatures and inadequate living conditions.
Thousands of migrants and refugees fleeing wars and poverty in North Africa and Asia are sleeping rough near the border, which they hope to cross to gain access to the EU.
Several people were injured on Wednesday in clashes with Croatian police, with migrants accusing officers of beating them and smashing their phones.
Meanwhile, Doctors Without Borders warned that "as temperatures drop the situation becomes more difficult and tensions are rising."
Euronews correspondent Hans von der Brelie is at the scene. Take a look at his pictures and videos below to find out what is really happening on the ground:
Matiola and Nazir want to enter the European Union without visas. However, they can't cross the well-protected Bosnian border with Croatia.
They are stuck in the northwestern part of Bosnia and Herzegovina, in Bihac, sleeping rough — protected against rain by plastic sheets.
A torn EU umbrella lays on top of destroyed tents and garbage in a public park of Bihac.
Hundreds of migrants had put their tents here, but they are no longer tolerated and the camp was dismantled.
Migrants rebuild a shelter in Bihac park.
These friends from the Kurdish part of Iraq have stayed together throughout the difficult journey. They dream of building a future in Germany or France.
This is 24-year-old Muhamed Suliman. He worked as a taxi driver in Dubai before heading towards Europe. It was "too hot to stay there. Not enough pay. Too many fines," he said.
Suliman said his dream is to reach Italy, but there is no way to cross into Croatia.
"I will try again. Again and again," he said.
Wearing plastic sandals, he said Croatian police took his shoes.
The remains of a dismantled tent camp in Bihac park.
Kurdish Iraqi migrants discuss their broken smartphone. "The Croatian police smashed it," they said.
Ageed, Muhemed, Jalal, Karwan, Lawin, Ahmad, Tahiro are from Iraq. They speak Kurdish.
They have been staying for many weeks in the public park of Bihac, the starting point to cross illegally over the external EU border.
They have tried several times to enter Croatia but were always caught by border guards.
Muhamed claims he was surrounded by seven Croatian policemen and beaten up.
This is a former students dormitory building in Bihac park, where almost 1,000 migrants and refugees sleep rough. They mainly come from Afghanistan, Pakistan, Northern Africa, Bangladesh, Iran and Iraq.
People cook on an open fire in front of a former students' dormitory in Bihac.
The migrants from Pakistan are aiming to cross the nearby external EU border illegally into Croatia and travel further towards Italy, Germany, France and Spain.
This official tries to detect migrants crossing into Croatia illegally every day and night.
Ivana and Josip are two of 6,300 police officers controlling the Croatian border with Bosnia and Herzegovina.
As it prepares to join the EU's Schengen zone soon, Croatia has invested heavily in human resources.
"We have really a lot of colleagues around here at the external border of the EU", Ivana and Josip told Euronews.
This is just one out of many watchtowers and observation posts on the Croatian side of the external EU border with Bosnia and Herzegovina.
"No need to build a border fence here," says Damir Butina, head of the border police unit in Cetingrad.
This is the famous "green border" between Croatia and Bosnia and Herzegovina. The tiny creek marks the exact borderline.
The left side of the picture is Croatia, the right is Bosnia and Herzegovina.
Dozens of migrants try to cross the border every day and every night. While there is no fence, there is hidden high tech surveillance all around. You move — and you will be detected.