Probe into Brexit campaign funder Arron Banks moves beyond electoral law offences
Comments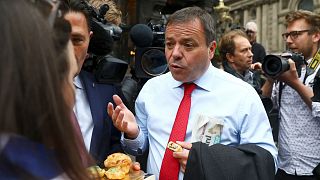 A probe into Brexit campaign backer Arron Banks has moved beyond electoral law offences, say crime chiefs.
Banks, who helped finance the Leave.EU campaign led by MEP Nigel Farage, has already been the subject of an investigation by the Electoral Commission.
But now the UK's National Crime Agency (NCA) has begun a probe.
"While electoral law offences would not routinely fall within the NCA's remit, the nature of the necessary inquiries and the potential for offences to have been committed other than under electoral law lead us to consider an NCA investigation appropriate in this instance," the NCA said in a statement.
Banks, who has repeatedly denied any wrongdoing, says he welcomed the investigation as it was an opportunity to clear his name. 
"We welcome this investigation as it is an opportunity for us to clear up the matter," Banks told Reuters. "Rock holdings is a company I own and control and I'm a U.K. tax payer, no Russian or foreign money has ever come into it."
"The electoral commission have said offences may have been committed but have provided no evidence," Banks said. "As usual the Electoral Commission is batting for the Remainers in parliament." 
The NCA has been described as Britain's FBI and has a wide remit "leading the UK's fight against organised and serious crime".
It probes money laundering, cyber crime, child sex abuse, modern slavery and human trafficking.