Northern Ireland ad campaign tackles paramilitary violence | Raw Politics
Comments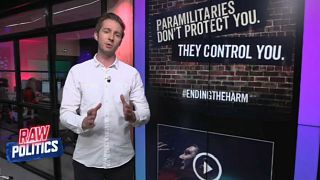 A new ad campaign launched by the government in Northern Ireland is urging parents not to bring their children to paramilitary groups for extra-judicial punishments.
The campaign, Ending the Harm, is warning people that paramilitary groups who claim to protect and police their communities are in fact controlling them.
"This is a message for people who in effect go along with the paramilitaries out of fear for what can happen if they don't," explained Euronews' Alex Morgan.
In 2017-2018, 87 people were victims of "paramilitary-style attacks", with 22 shot and 65 assaulted, the campaign says.
"Those who carry out these barbaric attacks don't care about people or justice or solving social problems. They are only interested in exerting control and exploiting our communities".
Euractiv.com reporter Brian Maguire said he "grew up with this".
"I was born in the districts where this happened; I worked in districts where this happened; at university I worked in the hospital and I carried the people who had been shot through the hospital. You hear the screams when the police bring them in...It's really horrifying", he said.
He added that the issue of such paramilitary groups "never went away".
Watch the video above to find out more about paramilitary violence in Northern Ireland and what can be done to stop it.