All you need to know about French hunting accidents this year
Comments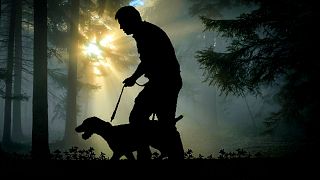 The death of a British man who was accidentally shot while biking in the Alps was just one of the hunting accidents to hit the headlines in France since the start of the 2018 season.
When questioned by police, the perpetrator explained that he was targeting a wild boar.
France is a land of hunters — in 2015, the country had over 1.1 million people actively practising the sport, according to the National Federation of Hunters.
How frequent are hunting accidents and what is being done to prevent them?
Incidents in 2018 so far:
Hunter kills his colleague
A week after the cyclist was killed, a man was shot dead by another member of his group during an organised hunt in the department of Meuse — the victim was serving as a beater for the group and hidden in bushes at the time of the accident.
Surfers 'mistaken for pheasants'
Another incident that, fortunately, did not result in a fatality saw two surfers in Brittany left terrified when they heard bullets flying past them on October 21.
They claimed to have been targeted by hunters who they said "mistook them for pheasants" but the hunters argued, "they were targeting a bird that took flight nearby."
Shots fired between hunters and game warden
Finally, this weekend, an altercation took place between hunters and a game warden, which resulted in shots being fired.
The spat, which took place in Sainte-Maure de Peyriac, Lot-et-Garonne, erupted over whether the hunters had organised the activity following correct legal practices or not.
Have hunting accidents become more frequent?
In France, the hunting season starts in September on different dates in each department and ends between January and March, depending on the type of hunt.
Since the 1999/2000 season, more than 3,000 accidents have occurred, including 403 deaths, according to data from the National Office of Hunting and Wildlife (ONCFS).
Despite the total number of accidents decreasing season-on-season, the average remains at 20 deaths each year. Victims are mostly the hunters themselves and their companions, according to the ONCFS.
What is being done to reduce the number of accidents?
The incidents outlined above have raised questions surrounding how hunters can coexist safely with the rest of the population.
A recent online petition directed at French President Emmanuel Macron, organised by the Association for the Protection of Wild Animals (ASPAS), called for a ban on Sunday hunting and garnered almost 200,000 signatures.
At a local level, some authorities have already taken action. For example, the town hall in Jarsy, Savoie department, issued a bylaw stipulating mushroom pickers should wear a fluorescent vest on hunting days to "be seen and avoid possible accidents".
In Montriond, where the mountain biker was killed, the practice of hunting has been suspended in part of the town for the entire 2018-2019 season.
On the other hand, one MP for Macron's La République En Marche! suggested banning quad biking during the hunting season — a stance that provoked controversy.
Alain Perea, who is also co-chair of the Hunting Group at the National Assembly, later labelled his tweet "clumsy", said it had been misinterpreted and that he wanted to express "we must work together to better share land".
What regulations are in place?
A hunting enthusiast must renew their license each year to be able to take part in the activity. It costs an average of €140 for a departmental license and over €400 for a national license but Macron has promised this sum will soon be halved.