Mexican president-elect pulls plug on new airport; markets sink
Comments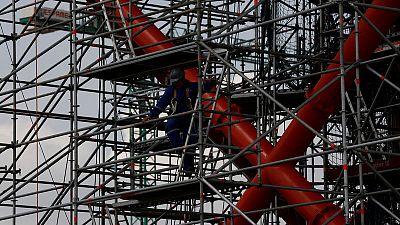 -
By Sheky Espejo and Michael O'Boyle
MEXICOCITY (Reuters) – Mexico's incoming president said on Monday his government would cancel construction of a partially built $13 billion (£10.1 billion) new airport for Mexico City, a decision which left investors fretting over how he would manage the economy and led to sharp falls in the currency and stockmarket.
President-elect Andres Manuel Lopez Obrador said his administration, which takes office on Dec. 1, would heed the results of the informal referendum that called for abandoning the current project.
Instead, a military air base north of the capital will be converted for commercial use to ease overcrowding at the current hub.
The move puts Lopez Obrador's government in a confrontation with the country's business elite, whom he criticized during his election campaign but had sought to soothe following his landslide election victory. Markets had welcomed Lopez Obrador's pledge to stick to orthodox fiscal policies after his election.
Companies owned by the family of Mexican billionaire Carlos Slim, once the world's richest man, were co-designing, co-financing and co-building the project. Mexico's pension funds also put up money through an infrastructure investment trust.
"People had given Lopez Obrador the benefit of the doubt that he would be a pragmatic governor. That essentially collapsed. People are reassessing everything about Mexico," said Gustavo Rangel, economist at ING in New York, said.
"I don't think the administration understood the importance of this decision."
Mexico's peso tumbled around 3.6 percent, blowing past the key 20 per U.S. dollar level after Lopez Obrador's announcement.
The peso's losses were the most of any major currency on Monday, while the country's benchmark stock index closed down 4.2 percent. Both the currency and stock market saw their worst one-day losses since the aftermath of the election of U.S. President Donald Trump in November 2016.
Several economists said the peso's losses made it more likely that the central bank would raise interest rates.
The public was asked over a four-day public consultation that ran from Thursday to Sunday to weigh in on the fate of the new airport, and Lopez Obrador, who had called for the referendum and was against the new airport, pledged to respect the result.
Roughly a million people, or about 1.0 percent of Mexico's electorate, participated.
"The decision is to obey the will of the people," Lopez Obrador told reporters at a news conference.
He said it was a "rational" decision and that the government would save around 100 billion pesos (£3.9 billion). He also said it was "normal" for the peso to weaken.
"It's normal. Once there is more information things will calm down. This isn't significant … there is nothing to fear," said Lopez Obrador of the peso's sharp decline.
The yield on Mexico's benchmark 10-year peso bond was bid 37 basis points higher to 8.74 percent, driving the price sharply lower, in its biggest one-day jump in yield since Trump's election raised worries he would rip up the NAFTA free trade deal with Mexico.
"He hasn't yet taken office, but he's already managed to cancel the largest infrastructure project in Mexico based on the decision of one percent of the population. Markets don't like uncertainty," said Aaron Gifford, an emerging markets bond analyst at T. Rowe Price in Baltimore.
Lopez Obrador said investors in the new airport project would be protected and that bonds issued to back its construction were guaranteed. Yields on bonds funding the new airport spiked higher.
Mexico's President Pena Nieto on Monday said that the project, which administrators said is close to one-third complete, would continue until his term finishes at the end of November.
He also said that the cancellation of the project would probably mean having to pre-pay the $6 billion of bonds issued to finance it.
Lopez Obrador argued during the election campaign that the new airport was tainted by corruption and would be expensive to maintain due to the geological complexity of the terrain. It has been under construction on the drained bed of Lake Texcoco east of Mexico City since 2015.
The referendum was organised by Lopez Obrador's National Regeneration Movement, without the national electoral authority INE. Opposition parties have said the consultation did not follow proper rules.
Several local media outlets reported cases of people who were able to vote more than once and highlighted failures in software used to register voter identification cards, while opposition parties suggested the vote had been rigged.
(Additional reporting by Michael O'Boyle and Miguel Angel Gutierrez; Editing by Tom Brown and Cynthia Osterman)
Euronews provides articles from reuters as a service to its readers, but does not edit the articles it publishes. Articles appear on euronews.com for a limited time.