At least 9 dead in Italy as storms cause chaos in Europe
Comments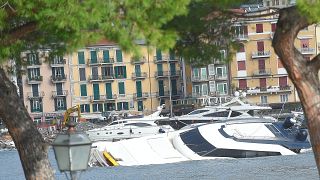 Heavy storms, torrential rains and snowfall have hit parts of Europe, leaving at least nine people dead in Italy and cutting off roads and electricity, officials said on Tuesday.
The death toll in Italy climbed after a fireman was killed during rescue operations in the alpine region of South Tyrol, near the Austrian border, and a woman died in the neighbouring province of Trentino.
The fireman was crushed by a falling tree, while search teams pulled the woman's body from the mudslide that hit her home.
Elsewhere, a kite-surfer died near the Adriatic beach resort of Rimini after strong winds blew him violently against a cliff.
Sea storms in the northwestern Liguria region forced the closure of Genoa airport and badly damaged an access road to the tourist resort of Portofino, leaving it cut off from the rest of the region.
Also on Tuesday, tens of thousands of households in northern Italy were left without electricity and schools were closed as a precaution in several cities, including Rome, Naples and Venice.
Venice on 'code red'
Authorities in Venice barred access to the central St Mark's Square, which was heavily flooded.
Local authorities said the high tide hit a maximum of 156-centimetres in the early afternoon - the fourth highest level ever recorded.
Prime Minister Giuseppe Conte mobilised civil protection authorities to aid local Venetian officials with rescue response, while Matteo Salvini, the interior minister, said authorities had 24-hour monitoring in place for all the high-risk areas from northern Liguria to southern Calabria.
Severe weather also hit Spain, with 30,000 households on the island of Menorca plunged into darkness for 48 hours after a tornado hit over the weekend.
An Arctic air mass over northern Spain produced a wintry mix of rain and snow, affecting motorways and rail service in the regions of Asturias and Galicia.
Members of the armed forces were deployed to help emergency crews remove downed powers lines and trees.
In France, more than 1,000 people were taken into emergency accommodation overnight after motorists were stranded on snow-bound roads, the departments of Loire and Haute-Loire said.
Around 195,000 homes across the country lost power in the storms, electricity network company Enedis said.
In Slovenia, the storm knocked down trees and caused minor flooding in places. A red alert remains in some places due to the swelling Drava river, the STA news agency said.
In southern Austria, around 10,000 households were without electricity in the province of Carinthia. In addition, emergency services were working to protect communities from floods after the massive rainfall over the past few days.