Watch: Harry and Meghan rub noses in traditional Maori greeting
Comments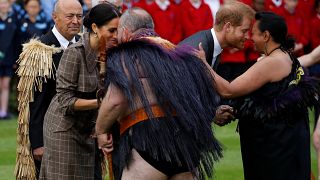 Britain's Prince Harry and his wife Meghan were welcomed to New Zealand on Sunday with a traditional greeting, which saw them rub noses with Maori elders and enjoy 'haka' dances.
The Duke and Duchess of Sussex touched down in New Zealand from Sydney on the last day of their 16-day tour.
At an official welcome ceremony at the Government House in Wellington, the couple observed a traditional 'haka' war dance, and rubbed noses with Maori elders in a greeting known as a 'hongi'.
During their trip to New Zealand, Harry and Meghan are set to visit Abel Tasman National Park, meet charity workers and unveil a dedication to the Queen's Commonwealth Canopy.
The 2018 Invictus Games — an international paralympic-style event for military personnel wounded in action — ended in Sydney the previous day with a closing ceremony, where both Harry and Meghan made speeches.