Secretary Mattis warns Khashoggi murder threatens regional stability
Comments
By Courtney Kube and Associated Press with NBC News World News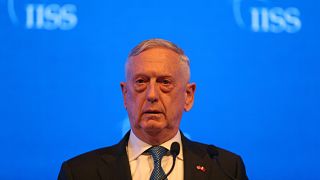 MANAMA, Bahrain — Secretary of Defense Jim Mattis called the death of Washington Post contributor Jamal Khashoggi "murder" on Saturday, his strongest comments so far on a controversy that has strained Saudi-U.S. ties.
Khashoggi's death in a diplomatic facility "undermined regional stability" and should "concern us all," Mattis said in Bahrain at the IISS Manama Dialogue 2018, a security summit.
While never directly blaming Saudi Arabia, he warned the U.S. would be taking additional measures against those who may have been involved. He also pointed to Secretary of State Mike Pompeo's decision to revoke visas of those implicated.
The U.S. will "consider the implications of this incident within our broader strategic framework," Mattis said. He did also not mention the kingdom's de facto ruler, Crown Prince Mohammed bin Salman, who has been spearheading an effort to modernize the country's economy and society while also cracking down on dissent.
After denying that the Saudi critic of the crown prince was killed after visiting the country's consulate in Istanbul on Oct. 2, the Saudis backpedaled several times. Last week they admitted that the former regim insider had been killed inside the building, and on Thursday, officials said it was a premeditated act.
The death of Khashoggi, who went into self-imposed exile last year, has sparked widespread international criticism of Saudi Arabia, and complicated Washington-Riyadh relations.
The U.S. ally is considered a bulwark against Iran and a linchpin of President Donald Trump's regional ambitions, but the the Khashoggi crisis has helped crystallize growing unease about Crown Prince Mohammed.
News
The Saudis have consistently maintained the crown prince had no prior knowledge of the operation, despite the involvement of some of his top aides. On Wednesday, he called the killing a "heinous crime."
The controversy has also focused attention on the kingdom's war in Yemen, where half the population, around 14 million people, are at risk of famine.
Speaking at the same event as Mattis, Saudi Foreign Minister Adel al-Jubeir called the reaction to Khashoggi's death "hysterical."
"I think people have assigned blame on Saudi Arabia with such certainty before the investigation is complete," he said.
Jubeir added that the Saudis "have made it very clear that we are going to have a full and transparent investigation, the results of which will be released."
And investigations take time, he said.
When asked whether members of Saudi Arabia's leadership were involved in the murder or cover up, Jubeir said, "We know that a mistake was committed, we know that people exceeded their authority and we know that we are investigating."
Jubeir's comments come as Saudi Arabia seeks to contain the firestorm of criticism over its handling of Khashoggi's death amid a series of leaks from Turkish officials.
Late this week, Saudi Arabia's government acknowledged for the first time that a team dispatched to Istanbul had planned in advance to kill Khashoggi, once again altering its official explanation of his death. Previously, Saudi Arabia had said he was killed during a botched attempt to kidnap him and bring him back to the kingdom. Before that, the government insisted for weeks that Khashoggi had left the consulate alive.
News
Jubeir praised Trump and criticized his predecessor Obama, saying Saudi Arabia "went through challenging times with the [President Barack] Obama administration, that would be an understatement. We saw the Middle East unravel."
Saudi Arabia was vehemently opposed to theObama-era nuclear deal with Iran, and supported Trump's withdrawal from the pact in May.
"We are walking in lock step with the United States," Jubeir said. "America has a president who wants to protect its interests and be more robust in doing so. It's not about partisan politics, it's about national interests."