Using bombs to terrorize presidential critics is 'unprecedented,' historians say
Comments
By Corky Siemaszko with NBC News U.S. News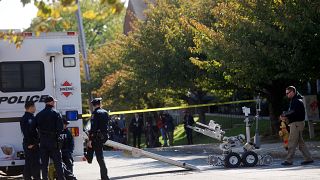 None of the package bombs that were mailed to some of President Donald Trump's toughest critics exploded but they still did plenty of damage.
So say some of the country's leading historians, who called the targeting of Trump's political enemies by an apparent terrorist an "unprecedented" development — and said the president bears some of the blame for the fresh wave of terror.
"The president has encouraged this kind of behavior, going back to Charlottesville, when he did not come right out and condemn the right wing hate groups for the violence or their racist ideology," said Thomas Whalen, who teaches at Boston University and is an expert on U.S. presidential history. "Now we're living with the fallout."
The United State, of course, has not been immune to political violence, or bombings, over its history.
In the 1960s and 70s, left-wing radicals planted bombs to protest against the Vietnam War or to show their defiance against the man. In the 1980s and 90s, a deluded anarchist named Ted Kaczynski terrorized the nation with package bombs as he became known as "The Unabomber."
Kaczynski killed three people and injured 23 more before he was captured in 1996 at his Montana cabin.
But what happened this week, when at least 10 package bombs were sent to former President Barack Obama, former Secretary of State Hillary Clinton and other prominent critics of Trump, was different, Whalen said.
"The specificity of the targets, the method of these attacks, this is precedent setting," he said.
And, Whalen said, "to me this can potentially get much worse."Many Trump supporters are convinced by right wing media that their president is besieged by dark forces and that could lead to more violence, Whalen said. And Trump is already blaming media coverage of his administration for stoking the anger that might lead a person to mail a bomb.
Pulitzer Prize-winning historian Eric Foner, of Columbia University was also hard-pressed to find another example when terrorism was used in apparent support of a president."I cannot think of one, either," Foner said in response to an emailed question from NBC News.
"There have been assassinations and attempted assassinations of candidates seeking to unseat a sitting president, with Bobby Kennedy killed during the 1968 campaign and George Wallace shot and paralyzed in the 1972 campaign," Michael J. Allen, an associate professor of history at Northwestern University, wrote. "I'm unaware of a bombing of critics of a sitting U.S. president."
Professor Michael Sherry, who also teaches history at Northwestern, agreed."All I can say, on short notice, is that I know of no comparable campaign in the past, whether by package bombing or similar means," Sherry wrote in an email. "There's rarely something in the present that has no precedent in the past, but I doubt this one has any precedent of comparable scale."News
Terrorists resort to package bombs "because it's easy and attracts attention," said Jimmie Oxley, a renowned explosives expert and co-director of the University of Rhode Island's Center for Excellence in Explosives Detection, Mitigation and Response
."What's different in this case is maybe the targets are unusual," she said. "There is an obvious connection between them."
And as the FBI continues to search for the suspected bomb maker, Oxley had some timely advice for other potential targets waiting for an arrest to be made."Tell your readers if they get a package they weren't expecting and it looks suspicious and is addressed from your great aunt Matilda, maybe you should call your great aunt Matilda before you open it," she said.