'Sharks' and recycling debris: UAE initiatives for waste management
Comments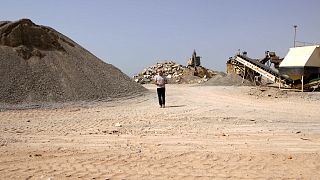 The United Arab Emirates has one of the highest waste generation rates in the world, and the Emirates' population has tripled over the past 18 years to 9.4 million residents.
This rapid population growth – in tandem with an increased number of residential construction sites - has left the country with a trail of household and building material waste to be dealt with.
According to the Abu Dhabi State of Environment Report 2017, a third of the debris produced in the emirate comes from building sites.
The UAE's aim is to reduce landfill waste by 75 percent by 2021, an ambitious but important goal according to some experts in the capital.
"Seventy-five percent is a very challenging target – it is not easy to achieve," says Ibrahim Majeed, head of recycling at Tadweer Waste Management Center in Abu Dhabi. "The benefit is that in a very short period we will be minimizing the amount of waste sent to the landfill - by providing environmental and treatment solutions."
Construction debris is amongst the UAE's waste management challenges
The recently opened Ghayathi recycling facility is one of the government's initiatives to minimize this wastage.
The center aims to build roads, and other infrastructure, using at least 40 percent recycled materials, whilst also recovering precious resources such as limestone in the process.
Another goal is to reduce pollutants like carbon dioxide, which is emitted when rubble is transported to and from landfills.
The facility will also reduce pressure on Abu Dhabi's largest landfill site in the Al Dhafra region which currently takes up to 70,000 tonnes of construction and demolition waste every month.
Shark-infested waters in the UAE?
Regional environmentalists have come up with an innovative idea to clean the UAE's waters.
Named 'WasteShark', the invention is a bionic fish which detects and feeds on floating debris like plastic bottles and crisp packets. It then swims back to shore to deliver its collection for recycling.
WasteShark (devices pictured center) is an initiative based in the UAE to help clean waters
Created two years ago, this mechanical shark has zero carbon emissions and can also work as a field researcher, collecting data from its surrounding environment.
"We can fit it with a number of sensors and those sensors will provide data on the water and air," explains Tom Day, sales director of Ecocoast, the company behind the invention.
The bionic fish picks up floating waste and can also collect data for scientific use
"We can fit it with up to 250 different measures of sensors, and all that will provide up-to-the-minute environmental data," he adds.
The WasteShark is expected to swim around the UAE's coast by the end of the year and contribute towards solving the country's ongoing waste problems.