Raw Politics: a look back at the week's stories...in case you missed it
Comments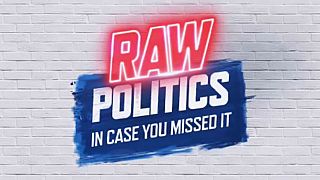 In Case You Missed It takes a look back at the week's Brussels coverage on Raw Politics.
Euronews' Tesa Arcilla interviews President of the European Parliament, Antonio Tajani where he shares his thoughts on populism, the possibility of an extension to the Brexit transition period, and sexual harassment in the European Parliament. European countries react to the murder of journalist Jamal Khashoggi, with German Chancellor Angela Merkle freezing German arms sales to Saudi Arabia. US President Donald Trump announces that he intends to end an arms treaty with Russia, with US National Security Advisor John Bolton travelling to Russia to meet Vladimir Putin.
Presented by Tesa Arcilla from the Agora studio of the European Parliament in Brussels, Raw Politics is designed to fulfil Euronews' promise to provide "All Voices, All Views, All Welcome". It poses hard-hitting questions on the issues that define and divide Europe through impactful interviews, passionate debates and expertise from our correspondents. Guests will come from all over the political spectrum.