EU policy failure & people trafficking in Niger
Comments
By Valerie Gauriat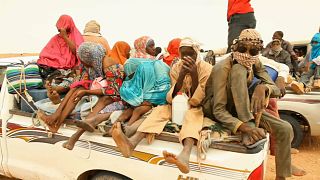 Niger is one of the world's poorest countries, so there were few qualms here about taking money to help migrants cross the Sahara, en route to the Mediterranean coast, and then Europe. Niger has cracked down on the business, and the EU has been providing funds to encourage smugglers to quit and do other things. But this is not working. For Niger, problems are piling up, as many migrants end up stranded here, either failing to find passage through the desert, or returning from Libya where they are vulnerable and preyed on by armed groups, or elsewhere. Euronews' Valerie Gauriat visited the capital, Niamey, and Agadez, on the edge of the great desert, to investigate.
Scores of pickup trucks converge at the Agadez checkpoint, in central Niger. It is a familiar scene in an area known as a migration hub for many seeking to reach Europe through Libya.
But a group of travelers have just made their way back to Niger, fleeing hell in Libya.
"What happened, we can't describe it. We can't talk about everything that goes on, because it's bad, it's so bad !
The number of crossings towards Libya fell after Niger cracked down on people smuggling and irregular migration. This was a blow to the local economy
EU-funded projects to offer alternatives to the migration business benefitted only a few.
One man says he had no choice but to take up people smuggling again, despite the risk of being arrested, and taking more dangerous routes.
"There are armed people everywhere in the bush. We have to take detours to avoid bandits. It's longer and it's more dangerous. We know it's dangerous. But for us, the biggest danger is not to be able to feed your family!"
Euronews' Valerie Gauriat entered one of the so called ghettos, outside Agadez, where the candidates for the trip to Europe through Libya hide out, until smugglers pick them up. She talked to some youths who are determined to make the crossing. They say nothing can stop them if things don't improve in their countries.
"There are thousands of youths in Africa, ready to go. Because there is nothing. There is nothing to keep them in their countries. They are prepared, for anything. They will always be ready to risk their lives. That's it," said one young man from the Ivory Coast.
The pressure on Agadez is heightened by the presence of thousands of migrants waiting to go back to their own countries, or hoping to go to Europe through legal routes.
"Since we can not go back home, we are looking for a place that is more favourable to us. Where we can be safe, and have a better chance in life," said one young Sudanese asylum seeker.
Watch our full report in this week's edition of Insiders, euronews' current affairs programme.