Syrian war victims: rehabilitation rebuilds lives in Turkey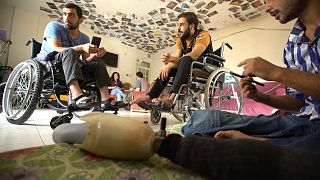 Over seven years of war in Syria have produced, at the last count, six million internally displaced and 5.6 million registered refugees in the region.
In terms of the Syrian exodus, most went to Turkey, which continues to be home to the world's largest refugee population, close to four million refugees.
But Turkey has had enough, and has just completed one of the latest walls to have sprung up on the planet. It gets less press than Donald Trump's proposed yet mostly unbuilt Mexican border wall, or the Israeli's security barrier, or the one Hungary has built to keep out migrants.
In 1989 there were 15 walls on borders - today there are 77 and counting
The three-meter-high Syria-Turkey wall dominates the Turkish town of Reyhanli. It's a concrete-hard reminder of the war that Syrians are fighting just meters away, an emblem of the difficulties of a frontier nation that has to cope with refugees' humanitarian needs and walk the diplomatic tightrope of being on the doorstep of an international power struggle.
Reyhanli hosts a big community of Syrian refugees. We met Hussam Zinno at a care-house he manages for wounded fellow countrymen. He himself arrived with a bilateral amputation three years ago.
"We were rallying against the regime. It was a Friday. I was with my friends at Ein Terma. We were hit by shelling perhaps by a tank or with precision-guided munition. My legs were gone straight away," he tells us.
Six years after the shelling, Hussam is back in the saddle after a remarkable recovery.
At first, he made his own rudimentary limbs in Damascus. Then he came to Turkey to be fitted for proper prosthetics at centre run by the National Syrian Project for Prosthetic Limbs.
"I started the training two years ago. At the beginning it was very difficult. Little by little it became easier. I felt I had to walk like common people do. I have managed to get to that. It became easy," he says.
International partners join Turkey & Syria to rebuild lives
Since 2017, the clinic has been financed by the EU Humanitarian Aid Department in partnership with Relief International. The aim is to improve access to specialized health services for conflict-affected Syrian refugees. The centre was opened five years ago by doctors from the Syrian diaspora and it's still run by Syrians.
"Those who started the project came from different backgrounds. I am a Maths teacher. Twelve people had the chance to be trained in Ankara for three years. They became specialists in prosthetic limbs. Up to now we've produced 6500 different types of prosthetics," says the NSPPL centre's manager, Raed Almasri.
The needs are enormous, but no-one really knows how enormous, as the data is lacking. The Country Director of Relief international, Andrea Patterson, explains:
"In Turkey we don't know the burden of physical rehabilitation on this population. There was one study of refugee populations in both Jordan and Lebanon that showed 60 percent of the sampled households had somebody with a physical disability. So if we extrapolate that finding to three point five million people in Turkey we can imagine the needs are pretty great. Often these are invisible and hidden issues," she says.
Changing the population map
Nearly half of the Syrian refugees who settled in Turkey live today in the south-eastern provinces bordering Syria. In Hatay provice, where Reyhanli is located, 27% of the population is Syrian, compared to a national average of 4%.
We traveled to the province's capital Antakya, to understand how the EU is cooperating with the local Government to assist refugees.
A heath service under strain
Monica Pinna, euronews:
"What's been the impact of the Syrian conflict on the Turkish health care system?"
"Well the Turkish health care system provides basic medical assistance to the refugees, but obviously these refugees are heavily traumatized both psychologically and also physically. So this is where the EU can target its funding and have these experts try and assist these refugees with these very specialized healthcare needs," says the EU Humanitarian Aid's Mathias Eick.
"And what's the long term goal?"
"Well some of the centers we've funded previously have found alternative funding through private donors. But we are hoping that one day these kinds of specialized centers can also be integrated into the Turkish healthcare system because this care will have to go on for many years," concludes Eick.
The Syrian war has marked an entire generation with disability and trauma. Mental health, physical rehabilitation and prosthetics, requiring expensive and long term care, are giving thousands of refugees the opportunity of a fresh start. But many more are waiting.