'French Spider-Man' arrested after climbing one of tallest towers in London
Comments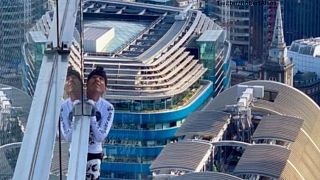 Alain Robert — dubbed the 'French Spider-Man' — sparked a major police operation after he was caught climbing one of London's tallest buildings. He has since been arrested on a public nuisance charge.
Robert, who has climbed Dubai's Burj Khalifa (828 metres), tackled the Salesforce tower in the City of London on Thursday.
Various people inside and outside the tower shared videos of Robert climbing.
Police cordoned off the area and told passersby to avoid it if possible while Robert free-climbs the building.
Working inside the building, Robert Alsos took a snap of the free climber in mid climb from the 30th floor.
"I work for Salesforce and heard it was happening. My colleague Tom and I walked into a meeting room and were met with that view. He nodded, waved to us and then continued up the building!," Alsos told Euronews.
Commander Karen Baxter of the City of London announced the arrest.