Taking the peace: Putin mocks US over plan to quit weapons treaty
Comments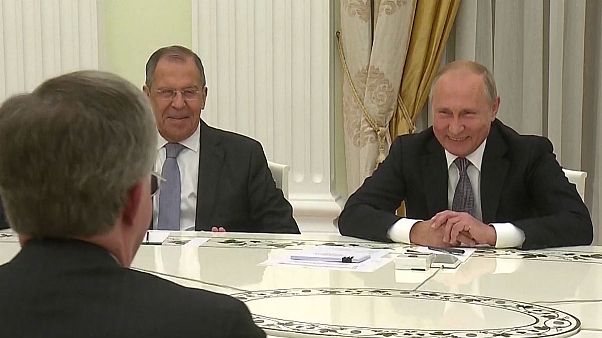 This is the moment Vladimir Putin made a joke poking fun at how much the US wanted peace with Russia.
He made the gag as he received US national security adviser John Bolton.
Russia's president, referring to Donald Trump's claim that Washington will pull out of a nuclear arms treaty with Moscow, appeared to go off on a tangent when he started speaking about the US' coat of arms.
The design — used on US passports and official letterheads — shows a bald eagle holding 13 arrows in one talon and an olive branch with 13 olives in the other, the latter symbolising the country's desire for peace.
"It looks like your eagle has eaten all the olives and has left only the arrows," Putin told Bolton via a translator, alluding to US intentions to quit the landmark Intermediate-Range Nuclear Forces (INF) pact.
The 1987 agreement eliminated all short- and intermediate-range land-based nuclear and conventional missiles held by both countries in Europe.
Putin's counterpart Trump announced his intention to quit the pact and claimed Russia had violated it.
Moscow has decried the move as dangerous and many European countries have warned it could reignite a Cold War-style arms race.
Bolton, responding to a smirking Putin, all-but admitted his visit was not conciliatory.
"I didn't bring any olives," he said.
"That's what I thought!" Putin shot back.
It comes as Trump is set to meet Putin in Paris next month, their first encounter since a controversial summit in Helsinki.