Putin's nuclear war comment sparks morbid stunt
Comments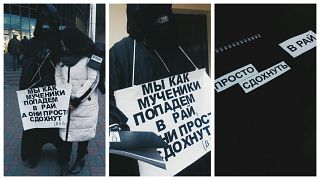 Vladimir Putin's claim that Russian victims of a foreign nuclear strike would go to heaven as martyrs has sparked a bizarre meme.
Putin, speaking about foreign policy at a conference in Sochi, added the aggressors behind such an attack "would simply drop dead".
Most will have let the comment pass them by, but not a group of activists in the central Russian city of Kurgan.
They hit the streets — dressed in black to represent death — and asked people what they would prefer: go the heaven as a martyr or drop dead.
The grim figure questioned passers-by asking which manner of death they would prefer, and wrote down the responses in a black book.
Four-fifths of people asked responded that they would prefer to drop dead, organisers told Euronews.
It's perhaps no surprise that such a morbid exercise would happen in Kurgan — it is also the ancient Russian word for a burial mound.
The satirical group's next project is to change the name of the local airport to a mafia mob from Kurgan, they added.
It comes as authorities across Russia are planning referendums on naming the country's airports after celebrities.