Hurricane Willa rips through Mexico's Pacific Coast
Comments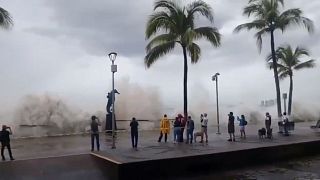 Residents on Mexico's Pacific Coast on Wednesday began clearing up the wreckage left by Hurricane Willa, which ripped through towns overnight, tearing off rooftops, downing power lines and splitting trees apart.
Willa, a powerful Category 3 hurricane, hit the northwestern state of Sinaloa late on Tuesday as one of the strongest storms to lash the coast in recent years, with winds of up to 195 km per hour.
No deaths have been reported as thousands of people were evacuated from coastal towns and resorts before the storm hit.
The hurricane had reached rare Category 5 status on the five-step Saffir-Simpson scale, on Monday, with winds nearing 260 kph, as it headed toward the coast.
The storm had dissipated by mid-morning as it moved quickly inland over northwest-central Mexico on Wednesday although it was still expected to dump heavy rains across the region.