'World's oldest shipwreck' from 400BC revealed on Black Sea bed
Comments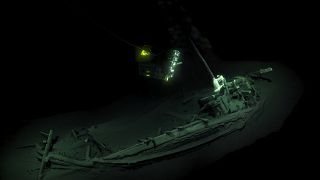 Copyright

Black Sea MAP/EEF Expeditions

-
Scientists combing the depths of the Black Sea were already excited, having found the remains of ships dating back several centuries during their three-year expedition.
But then they discovered, lying on its side on the sea bed, a vessel so old that its design had previously been seen only on ancient Greek pottery.
The Greek trading ship which was found at a depth of more than two kilometres, where water is free of oxygen and can preserve organic material for thousands of years.
A small piece has been carbon dated to 400 BC, making it the oldest intact shipwreck known to mankind.
"A ship, surviving intact, from the Classical world, lying in over two kilometres of water, is something I would never have believed possible. This will change our understanding of shipbuilding and seafaring in the ancient world," said the project's principal investigator Professor Jon Adams.
The Black Sea Maritime Archaeology Project (Black Sea MAP) is a joint venture involving experts from the UK and Bulgaria. Using specialist remote deep-water camera systems, the team has found over 60 shipwrecks – including a 17th century Cossack raiding fleet, Roman trading vessels and the ancient Greek ship found intact.
The project to map the Black Sea floor was set up to research the impact of changes in prehistoric sea levels and flooding in the region. A two-hour documentary is scheduled to be shown at the British Museum and around the world.