Turkey's Erdogan prepares to 'go into detail' about Khashoggi killing
Comments
By F. Brinley Bruton with NBC News World News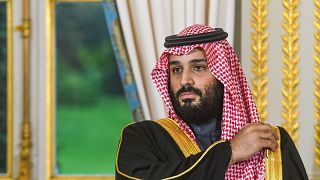 -
Copyright

Abd Rabbo Ammar
Turkish President Reccep Tayyip Erdogan has promised to "go into detail" about the murder of Saudi Arabian writer Jamal Khashoggi in a speech scheduled for Tuesday.Any damaging revelations by the leader of Saudi Arabia's regional rival could further inflame the diplomatic crisis over the killing of the regime critic and Washington Post contributor who disappeared in the Saudi Consulate in Istanbul on Oct. 2.Turkish authorities have said they had audio recordings proving Khashoggi was killed inside the building, alleging he was dismembered. Other regional diplomats have told NBC News that they believe his remains were removed from the consulate in boxes.
Erdogan's address also coincides with the opening of the Future Investment Initiative, a glittering gathering under the auspices of Crown Prince Mohammed bin Salman that is aimed at showcasing oil-rich Saudi Arabia as a moderate high-tech mecca. In recent days, a slew of businesses leaders and media companiesannounced that they were pulling out of the meeting dubbed "Davos in the Desert."In an interview with Fox News on Sunday, Saudi Foreign Minister Adel al-Jubeir described admitted that Saudis were involved in Khashoggi's killing but described it as a "rogue operation."
News
After weeks of vehemently denying that it had anything to do with the disappearance, the kingdom announced Friday that 18 Saudi nationals were being investigated over Khashoggi's death. The Saudi government also said five officials had been fired.The man at the center of the controversy and Saudi Arabia's de facto leader, the crown prince, has been charged with reorganizing the intelligence service and thus widely seen to be tightening his grip on power.
Citing multiple U.S. government officials, NBC News reported Thursday that U.S. intelligence agencies believe it's inconceivable that the crown prince had no connection to his Khashoggi's death.Bin Salman has launched a high-profile campaign to revamp Saudi Arabia's image abroad, and wean its economy of off of oil.While he has won plaudits in the West for his efforts to steer Saudi Arabia toward more moderate Islam, bin Salman has also overseen a wide crackdown on dissent that has engulfed fellow royals, clerics and women's rights and democracy campaigners.