US Secertary of State Pompeo has not heard recordings of Saudi consulate- Trump
Comments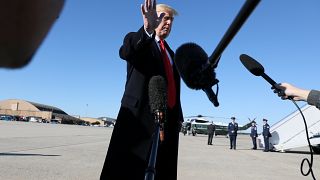 US Secretary of State Mike Pompeo had not seen or heard any purported recordings of the disappeared Saudi journalist Jamal Khashoggi, according to a Tweet by President Donald Trump on Friday.
Pompeo has also said he did not review any recordings. Meanwhile, Turkey's foreign minister also dismissed a media report that said Ankara had shared audio recordings that purported to document Khashoggi's alleged murder inside the consulate.
Turkish Foreign Minister Mevlut Cavusoglu said Ankara had not shared information with any country and said: "We will share the results that emerge transparently with the whole world."
Trump has said he believes Khashoggi is dead and the U.S. response will likely be "very severe" but he wanted to get to the bottom of what happened.
The US President has appeared unwilling to create too much of a distance with the Saudis, citing Iran's influence in the region and potential arms deals with the US.
On Friday the investigation widened as Turkish prosecutors questioned Turkish employees of the Saudi consulate in Istanbul, where the Washington Post columnist went missing more than two weeks ago.
Turkish police also searched a forest outside Istanbul and a city near the Sea of Marmara for Khashoggi's remains, according to Reuters.
Turkey believes Khashoggi was murdered, but Riyadh denies the allegations.
The case has sparked an international outcry over the Saudi kingdom with US Treasury Secretary Steven Mnuchin and senior ministers from France, Britain and the Netherlands, abandoning plans to attend an investor conference in Riyadh next week.
However, Arab allies have rallied to support the kingdom, with UAE Minister of State for Foreign Affairs Anwar Gargash denouncing what he called "attempts to undermine Saudi stability".
Sources have told Reuters Khashoggi's disappearance has tarnished Crown Prince Mohammed bin Salman's reputation, which has prompted the king to intervene.
Bin Salman has tried to re-brand the kingdom and diversify its economy from oil, as well as bring in social changes. However, it has received criticism over its involvement in the civil war in Yemen and the arrest of women activists.