USA ASKS FOR KHASHOGGI RECORDING
Comments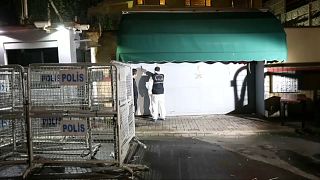 A team of Turkish investigators used ultra-violet light and drone technology to search the Saudi consul's Istanbul residence on Wednesday evening, looking for evidence in connection with the disappearance of Saudi journalist Jamal Khashoggi.
Turkish authorities say they believe Khashoggi was killed after entering the Saudi consulate on October 2 and his body removed. Unnamed sources have told various media outlets that authorities have recordings of the alleged murder.
US President Trump said on Wednesday that Washington has asked for access to the recording.
(Trump) "We have asked for it, if it exists. We've asked for it if it exists".
(Reporter) "Are you surprised they haven't turned it over?"
(Trump) "No I'm not sure yet that it exists, probably does, possibly does. I'll have a full report of that from Mike when he comes back. That's one of the things, that's going to be the first question I ask."
The president has denied giving cover to the Saudi regime but has warned against a rush to judgment, saying Saudi Arabia is being treated as "guilty until proven innocent."
He also stressed that Riyadh is an important US ally and business partner.
On his way back to Washington after meetings with Saudi Crown Prince Mohammed and Turkish President Erdogan, Secretary Pompeo said the US is taking Khashoggi's disappearance "seriously"